航向宇宙的橡樹子
The Oak Tree Seeds Sailing to the Universe
According to the legend in the remote country of TWIN, everything grows in pairs. Here, oak trees grow in every woods. Then, the people in TWIN use the seeds of oak trees to build 132 oak seed aircrafts. In a dark night with gusts, they use the knowledge of transferal to arrive in a beautiful planet – Taichung, TWIN Oak Garden, F1 Zone.
傳說,在遙遠的TWIN國,那國家長出來的一切東西,都是對生的。這裡的每一座森林都是以橡樹為主,於是TWIN國的人民使用橡樹的種子,打造了132艘的橡樹子航空器,在一個月黑風高的晚上,利用空間移轉的知識,來到了美麗的地球─台中 • 雙橡園 • F1特區。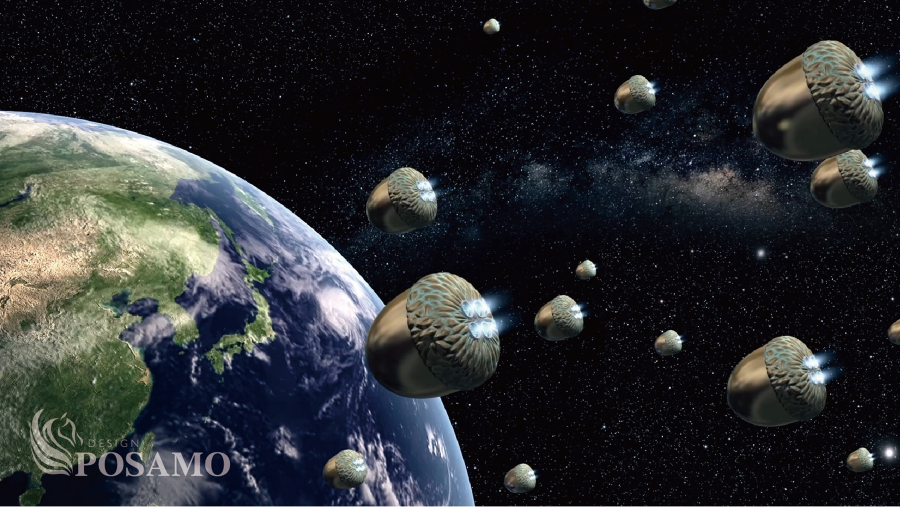 Hundreds of bronze oak trees have landed on the Twin Oak Garden F1 in Taichung Seventh Zone like flash. The POSAMO design team continues this special legend to engrave this story on the end wall in F1 lobby. For bronze craft, it needs to undergo the process of smelting, casting, polishing, and coloring.
數百顆銅製橡樹子航空器快如閃電地降落在台中七期雙橡園F1,POSAMO十邑設計延續這個特別的傳說,將故事刻劃於F1大廳端景… 銅工藝的製作,一般都要經過金屬冶煉、鑄造、拋光、上色等幾個重要的工序。
An old artisan remodeled the oak seeds in bullet shapes one by one to make a mold. The custom-made metal need to be color processed to allow its luster shines like bronze. The green copper tone and quality are neatly hued. At last, its surface is rust free processed for eternal collection.
老師傅將一顆顆子彈型的橡樹果實翻製成模具,特殊訂製的金屬材質特別透過色料處理,讓光澤富有銅繡質感,黛綠的古銅色澤與質感拿捏得恰如其分;最後,為了銅製品的長久保存,於表面作好防腐處理即完成。
The flow of light and shadow enhance the spatial expressions, to manifest the layering merged with light and darkness. The neat composition reveals refined taste. In the remote TWIN, its background story is the manifestation of the new craft spirit represented in the well-proportioned huge oak seed painting. In the high ceiling end wall in the lobby of Twin Oak Garden F1, Taichung, it salutes people in the manner of craft fashion like a hundred-year oak tree.




光影流動的詩意加深了空間表情,帶出明暗交融的層次,流露精緻構圖的品味。在遙遠TWIN國的故事背景中,錯落有致的橡樹子大畫是新工藝精神的展現,在台中雙橡園F1挑高的端景大牆,形成如百年橡樹般巍然挺立的工藝時尚。
Editor / Creative and Research Department

編輯/十邑創研部

Date / Nov 15, 2017

日期 /

2017-11-15