悠悠樹海 隱隱於市
Glass building nestled within the city
The Discovery & Change reception hall is located adjacent to the park. Drawing inspiration from nature, POSAMO utilized vast expanse of glass wall and modest façade design to draw in the distance between architecture and nature.
雨後的清晨有股淡淡的草本氣味,此時,環抱著饅頭山的自強公園,在蟲鳴鳥叫聲中甦醒,為繁華熙攘的新北新板特區,滌盡了都市纖塵;面公園綠地首席的喜全森鑄接待會館,POSAMO十邑設計以擁抱自然為啟發,運用廣闊的玻璃牆、不張揚的建築外觀設計,拉近建築與自然生態互動的距離。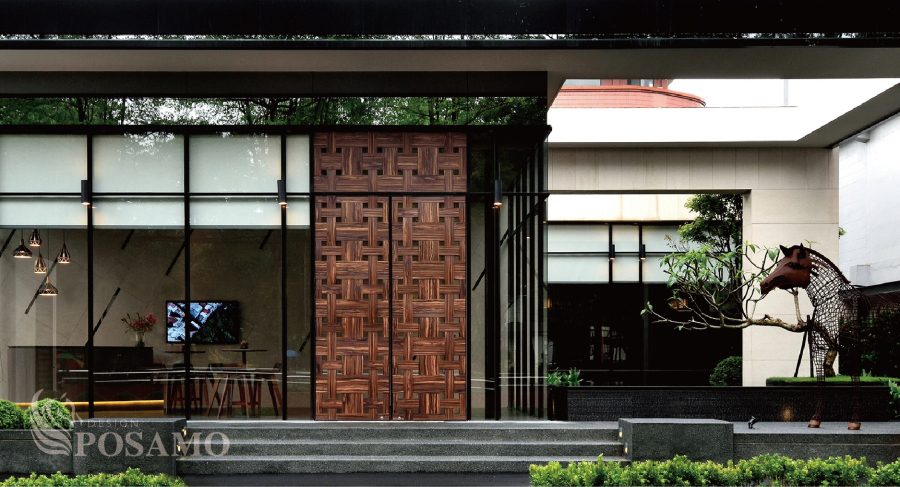 The horse sculpture at the entrance is akin to a fine gentleman courteously inviting passersby to come inside and seek repose. The curvaceous metal pieces present the malleability of metal. Open the woven wooden door, and it is like stepping into the forest, where a century-old tree metamorphoses into the ceiling and the stars are embedded into the walls. This is the true essence of POSAMO's chief designer King Wang's nature-inspired design.
入口處的駿馬雕塑,彷彿像個謙謙君子,有禮地邀請行人入內休憩,彎曲的鐵件,呈現出金屬的柔軟。推開經緯交叉而成的編織木門,宛如踏入被翻轉的森林時空裡,百年大樹化作天花,流星沒入壁面,十邑設計王勝正設計師將自然的碩美濃縮於此,形塑空間獨有樣貌。

As soothing rays of the setting sun flow into the room through the window, the vast French windows introduce the picture-perfect scenery of the infinity pool complemented by verdant trees outside to the interior for form an almost surreal image that evokes boundless imaginations.
一抹舒心的斜陽自窗外流洩而入,巨幅的落地開窗,對外擷取無邊水池瀲灩之美,悠悠樹海之邃,這景,如真似幻,予人無限遐思。

Embodying the 3.3-hectare view of Zijiang Park, the rugged granite-paved wall surface of the corridor exudes simple elegance, while the warmth of the wooden sculpture featuring leaf vein motif is matched by the unyielding metal frame to cleverly separate the two adjacent meeting spaces.
將萬坪自強公園轉變為內景在空間裡釋放,粗獷的觀音石鋪敘廊道的壁面,質樸雅致又別有韻味;溫潤的木質葉脈立體雕飾搭配剛硬的金屬線框,巧妙隔開兩兩相依的洽談空間。
As time progressed, the vagaries of light enhance a sense of tranquility and peacefulness in the Discovery & Change reception hall.
隨著時間遞進,若隱若現的光影,為喜全森鑄接待會館增添了些許自在閑靜。
Editor / Creative and Research Department

編輯/十邑創研部

Date / Dec 07, 2017

日期/

2017-12-07