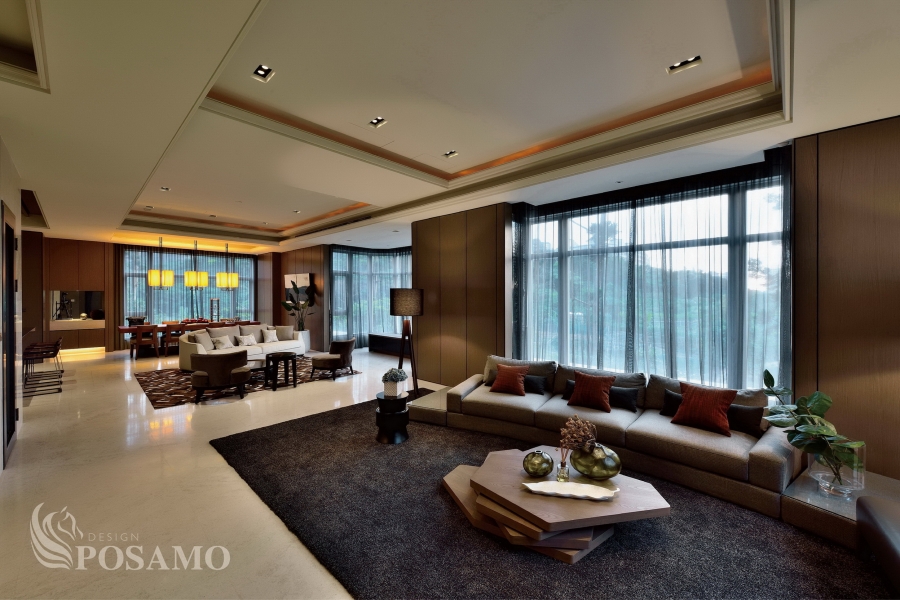 Located in Tamsui, the "JaySanLyn water park" villas are surrounded by green trees and grass. The sunshine gently passes through the leaves and dances on the broad road laid with flagstones. It is the simple and quiet atmosphere that fascinates people around here. The designer advocates returning to purity and creates a simple natural environment. Use a leisure way to manage the villas as managing a top resort hotel and create a pleasant home.
座落於淡水區的「甲山林水公園」別墅,環視四周景觀,大樹、植批盡是盎然綠意,陽光輕輕穿過枝葉灑落於寬闊的石板路上,氛圍樸實清靜,實在迷人。
POSAMO

十邑設計
主張回歸純粹,以簡約自然的空間語法呼應環境,以減壓放鬆
的休閒風格,經營頂級度假飯店氛圍,打造舒心怡人的家。
The lobby and restaurant are seamlessly connected; they share the best natural lighting and landscape. The line of sight is unimpeded and with marquisette curtain, residents still can keep privacy. The coherent space makes the fresh air flow freely throughout residents' home; therefore, although staying at home, people still can feel as relaxed as being outside. The crystal grey marble floor looks more elegant and graceful with the sparkle of daylight; also, with wood furniture in the neutral color, it creates a simple and characteristic space.
無縫連接的大廳與餐廳,共同享有最佳自然採光的視野景觀,視線無阻,層層向外延伸,帶上輕柔的薄紗窗簾,保有隱
私;一氣呵成的空間,新鮮的空氣得以在室內恣意竄流,氣動無礙,在家就能感受置身戶外的輕鬆愜意。地鋪琉璃灰石
材的晶瑩質感,天光灑落顯得典雅輕盈,映襯自然木質與中性色調傢俱,共塑出空間簡潔而不失個性的特色。

The hand-woven short wool rug is elastic and of uniform length. Standing on it, people can feel their feet coated by the soft wool. The couch's bottom is piled up by two layers of beige linen cushions; beside the couch, there is a soft leather single chair. They are in the corner and adjacent to the glass window, so people can sit or lie on them and enjoy the beautiful scenes outside the window. Three rectangular chandeliers illuminate the dining area and make the atmosphere full of humanistic flavor. The designing concept of dining table and chairs is to return to the most fundamental attitude of life, simple and plain. People can have a unique comfortable feeling when they take a rest here.
腳踩手工紡織而成的短羊毛地毯,長度均勻,富有彈性,起身踏上被柔軟滑順的觸感包覆;兩層米白粗亞麻布厚墊子相
疊的三人座沙發,搭配滑柔細緻的皮革單椅,毗鄰玻璃窗邊的休憩角落,任憑臥坐或躺;綠意端景前方的三對長型方燈
飾點亮用餐區﹐喚醒充滿人文風味的質感﹐餐桌椅回歸最根本的生活態度,簡約、素淨,在停佇休憩之間,鋪展獨特的
舒適感受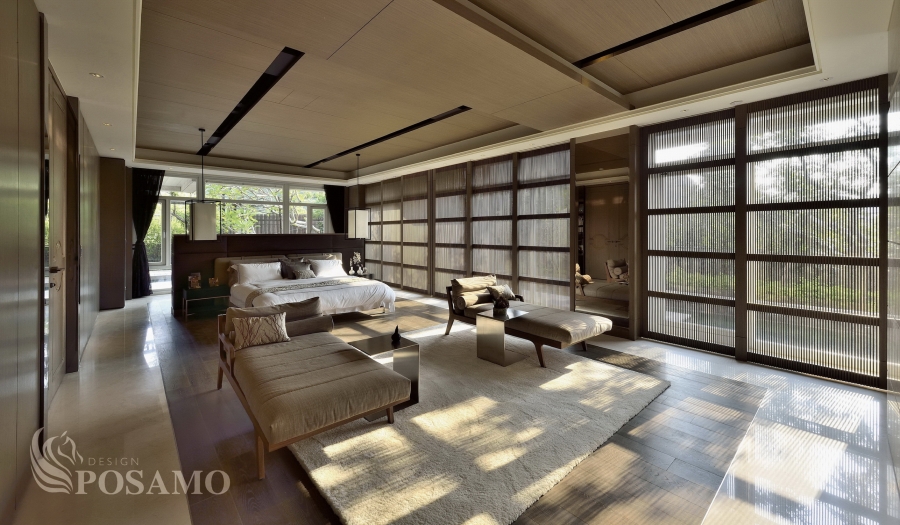 There is one master bedroom on each floor, and the whole room is arranged in a symmetrical manner. This design gives people a feeling of calmness. A row of wooden grille windows temporarily isolate the room from outside scenery, and only the sunlight and wind are allowed to flow into the room. With the sunlight shining through the grille windows, it makes the room bright and transparent.When the large grille windows are greatly opened, residents can see the beautiful scenery at first glance, but later they will be attracted by the private swimming pool at once and immersed in the charming reflection on the mirror-like water surface.
一層一臥房的主臥室,空間隱匿的軸線,格局秩序且對稱,顯現沉穩力度,中島臥床的優雅風采詮釋頂級埃及棉,詩韻
襯飾著緞織的低調光澤。一道鏤空的分界線,暫時將外頭的景色隔絕,經過篩光,只有光與風穿透的流動變化,斜照日
陽間,室內光彩瑩潤,氣質靜秀。而當這大面隔柵門牆大幅度地敞開,氣度十足,窗外所有的綠意鋪天蓋地而來,最後
目光停留在私人獨享泳池,沉浸在鏡面水映照出的迷人景致。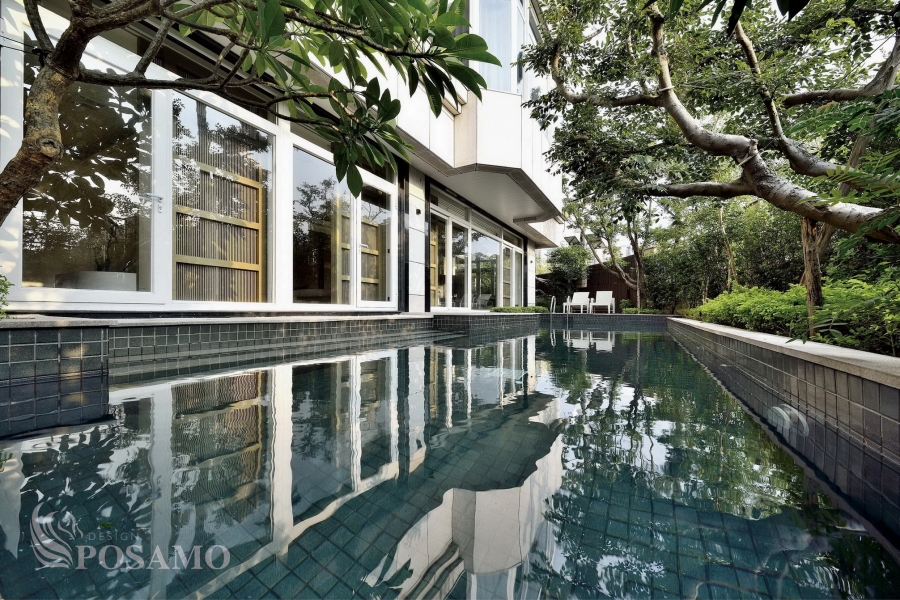 There is "ambiguous aesthetics" hiding in the design of wooden grille door. This design makes the building contain both permeability and privacy. The porous design creates a sense of lightness; it also creates a simple and natural atmosphere. With Japanese design and simple leisure style, it builds a beauty of modern Zen style.
木格柵拉門蘊藏「曖昧美學」,通透性與隱密性兼具,而透空設計展現輕盈,木質材質型塑出自然清新的氣息,以簡單
俐落具休閒感的和風設計,打造出沉靜的現代禪風靜謐美感。
Editor /

Creative and Research Department

編輯 / 十邑創研部

Date / January 21,2016

日期 / 2016-01-21