一戶一境忘塵歸墅
A space that enables you to escape life's hustle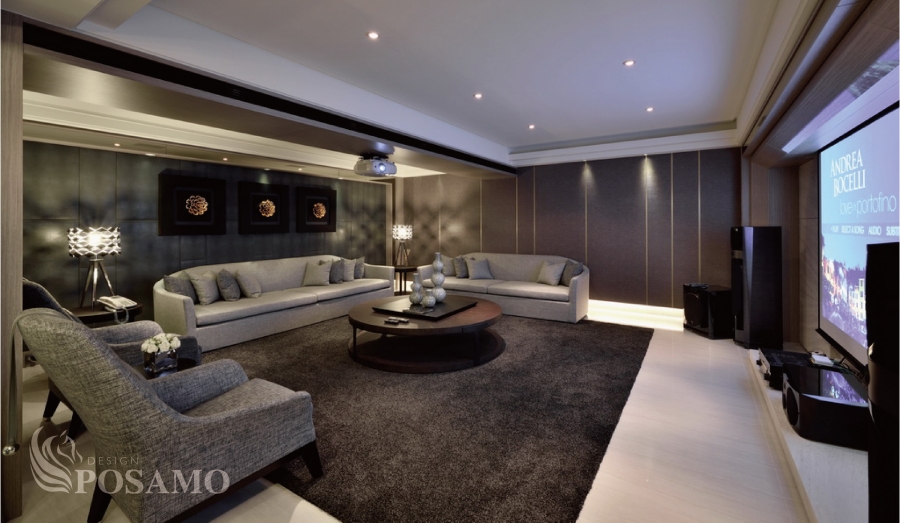 This isolated and luxurious villa POSAMO team designs includes an auditorium with a theme wall designed with grey-blue stingray leather, expressing modern and fashionable tastes along with the mirror-faced bar at the side. This adds variety to the beige-toned space, while fabric sofas bring a sense of coziness. A coffee table encapsulating Eastern perfection is placed in the middle, making the space relaxed and airy.
POSAMO

十邑設計塑造專屬的奢華享受獨棟別墅,台中創健望年的視聽室主題牆為特殊藍灰色珍珠魚皮,與一旁的鏡
面吧檯顯現時尚摩登品味,讓空間純粹的米色調增添變化,而粗針織布沙發帶出溫暖風味,將象徵東方圓滿的桌几安置
在中,空間看起來舒適不顯厚重。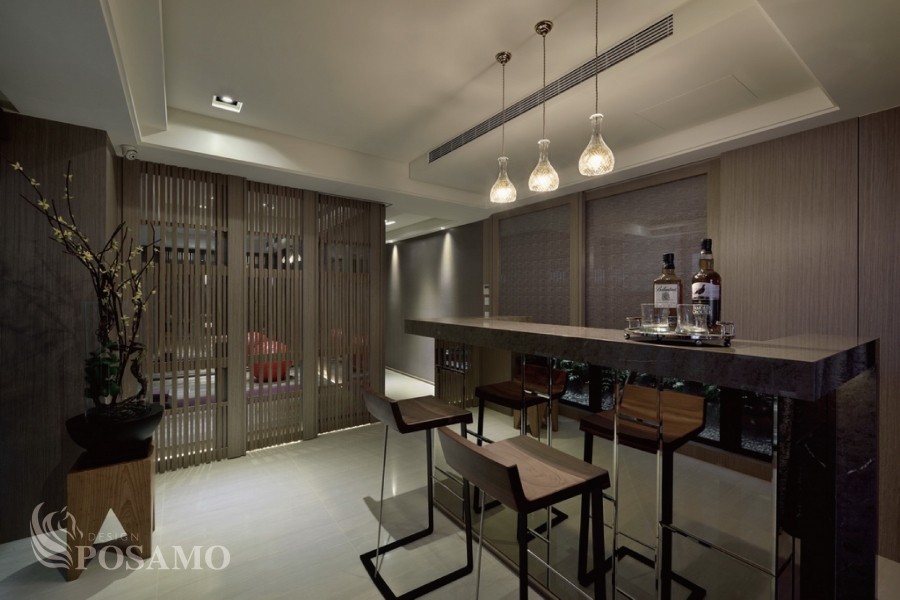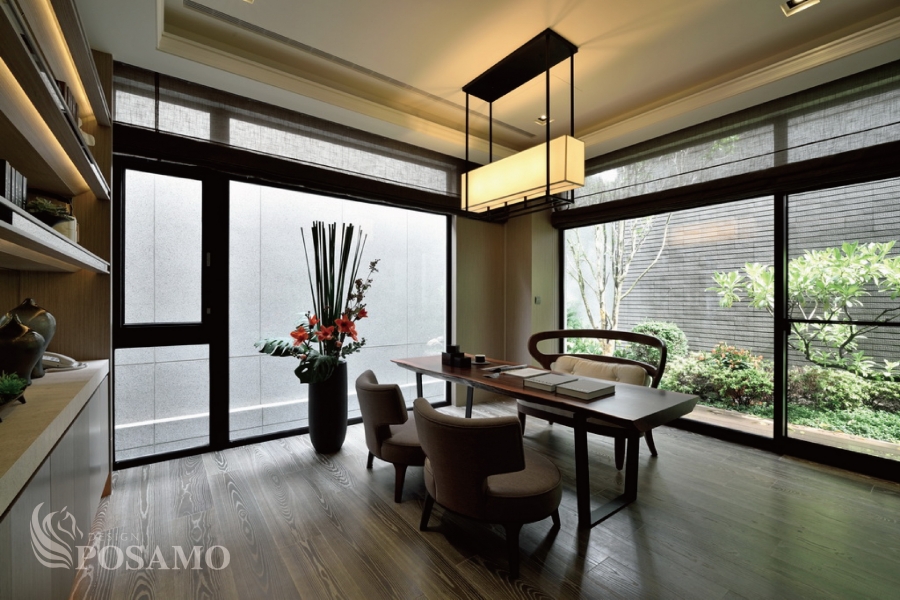 Sunlight falls through the atrium space, with green plants adding to the view, accentuating the elegance and warmth of the study through wooden textures. This enables the owner to be accompanied by beautiful scenery while entertaining guests or when spending time alone. Life is moveable art. The dense lines of the totemic carpet create a sense of space for luxurious relaxation. The specially patterned marble is exposed within the space, with fashionable taste subtly expressed without being too high-profile. The left side of the dining area features large French windows that look out on to the treetops, creating a feast of nature. Wide gauze curtains provide privacy, and can be adjusted according to the preferred field of view.
挑空區域陽光流瀉而下,植栽綠意形成最愜意的端景風貌,襯托整體以木材質帶出空間溫潤雅緻的書房空間,讓屋主不
論是待客或是獨處,都能佐以窗外美景,享受從容自在的閒暇時光。生活是流動的藝術,線條疏密之間搭配圖騰地毯,
創造精品休閒之空間感,特殊紋理走向的頂級大理石材在空間展露,時尚品味適度彰顯卻不過於高調;用餐區域左側大
片落地窗望見樹梢,創造在森林中饗宴的自然享受,大面寬的水紗簾保有空間的私密性,可依心情決定視野的高遠。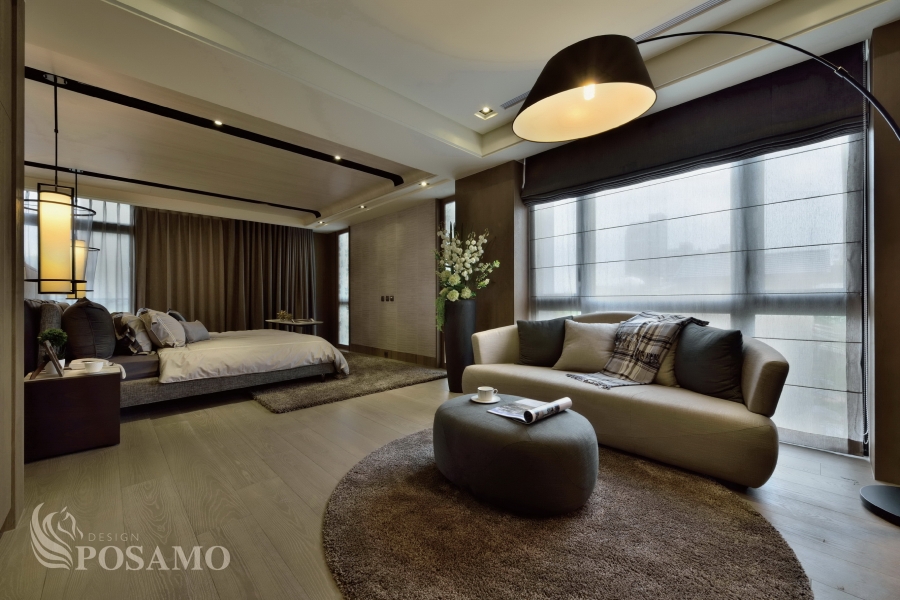 The main bedroom is decorated with brown and pale pink-grey wallpaper, harmoniously arranged. The decorations create an artistic texture, while light penetrates the curtains and falls into the interior, softening the space naturally. A hollow boundary behind the sofa separates the interior from the exterior, leaving only simple shadows that change in linear and flowing shapes.
主臥室空間以啡色木皮搭配藕色壁紙和諧交織,喚醒充滿人文風味的質感﹐光影透過窗簾灑入室內,在自然氛圍中柔化
空間。休憩沙發後一道鏤空的分界線,暫時將外頭的景色隔絕,經過篩光,留下最簡單的影,成點線狀的流動變化。
Editor / Creative and Research Department 編輯/十邑創研部
Date / MARCH 31, 2016 日期/2016-03-31