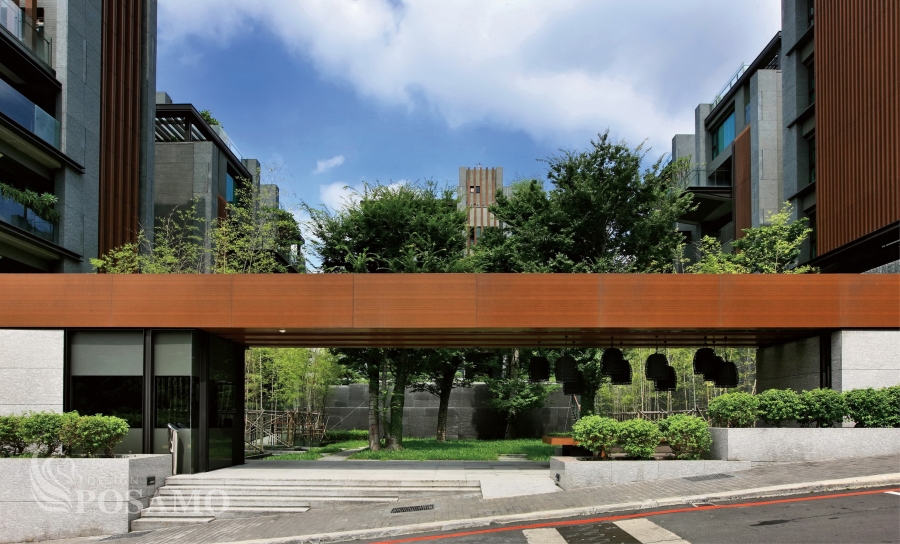 Mountain city on Yangmingshan and trickling water of Sulfur Creek – Picturesque Xanadu.
The water trickling down the meandering Sulfur Creek from Mt. Qixing passes the Shining Resort on Zhongshan N. Rd. in Taipei City to form the external wall of the residence in conjunction with the undulating mountains nearby. At the entrance, the wooden colored metal grille creates a movable wall in the form of a sliding gate. During the day, the openness embraces the surrounding landscape as the light casts shadows over the grilles. The suspended black bird's nest lamps sway in the gentle breeze like wind chimes. Brew a pot of tea at the scenic outdoor tea tasting area in the company of the cool, trickling water, and you can become one with Mother Nature.
陽明山城 磺溪水流 坐臥山水間的世外桃源
沿著七星山涓流而下的潺潺磺溪,一路蜿蜒至妝點台北中山北路門面的鄉林大境,與四周綿延的山巒共塑家的外牆。入口,木紋烤漆的金屬格柵,以軌道拉門的形式設計了一道移動式的牆,白天敞開的視線迎接周圍景色,光影於隔柵間落下,垂置的墨黑色鳥巢燈,在風的吹拂下如風鈴般的搖曳著。聽著泠泠的水聲,在依山傍水的戶外品茗區,沏一壺茶邀請大地共飲。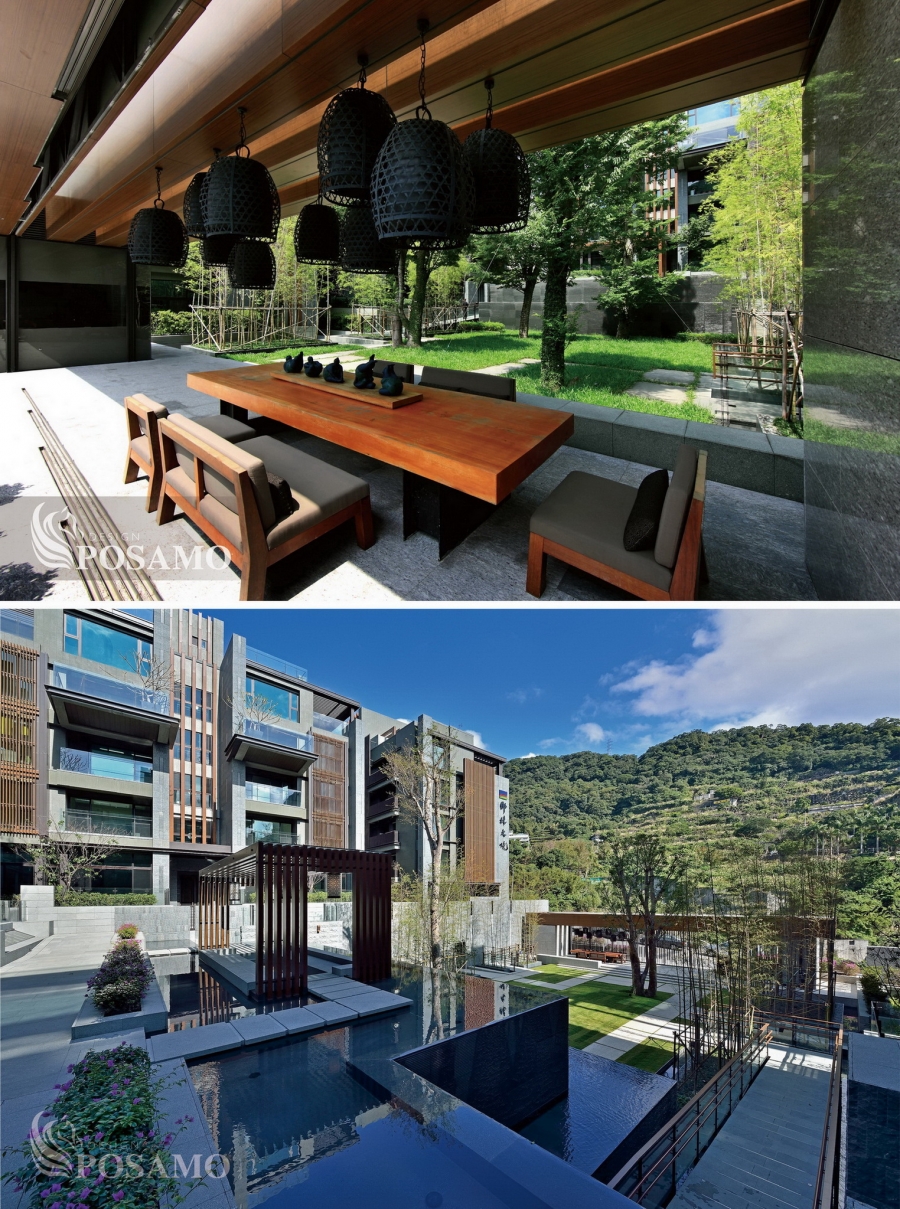 The 8 buildings amid the mountain cloud and mist culminate in the valley-like landscape that embraces the courtyard garden. Intricate branches and the flourishing leaves of towering trees in the courtyard garden form a verdant canopy complementing the lush mountains in the distance. The entire complex employs square shaped walks that connect the buildings with the outdoor space. Follow the ascending steps, one will be greeted by the pergola constructed from wooden colored metal overlooking the double-layered, mirror-like pools. Vibrant colors of the cloud and azure sky reflect off the surface of the water, while overflowing water trickles down the stone stone wall to form a waterfall in the courtyard garden.
面向層層山嵐的八棟建築,形成擁抱中庭花園的山谷式景觀。數棵參天大樹聳立中庭,交錯的枝葉形成綠靄靄的樹蔭,與遠方的山連成滿天綠意。全區以「回」字型步道,連貫建築與戶外空間,沿著階梯向上步行,一根根木紋金屬搭建而成的格柵涼亭,座落於雙層鏡面水池,水面鋪著蔚藍的天光雲彩,溢出的水沿著石板堆砌而成的水庫牆向下漫流,形成中庭花園的端景瀑布。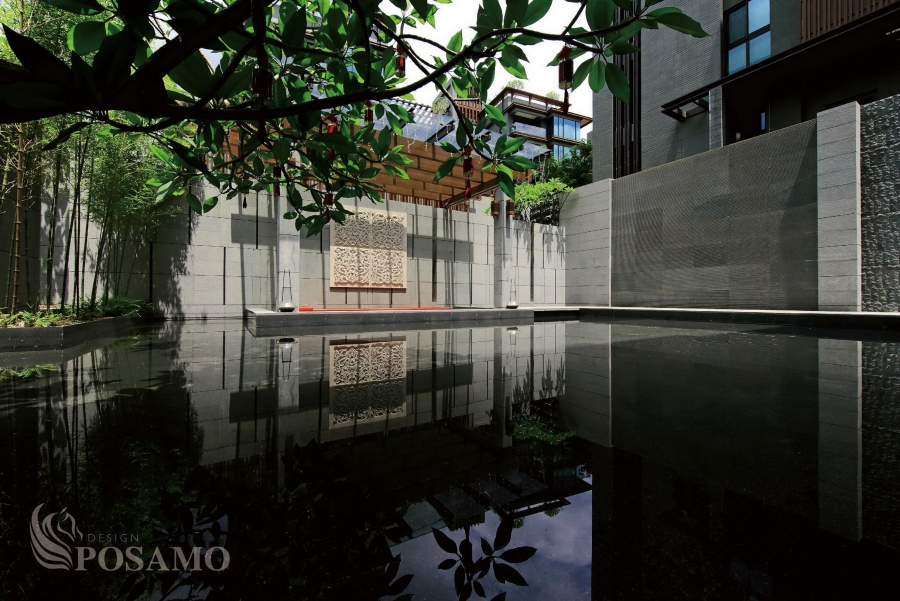 The POSAMO design team has designed the Shining Resort in Tianmu, Taipei by taking advantage of the local environment and its features; for instance, the team utilized the geothermal hot spring containing sulfur and iron minerals is to create a discreet, verdant outdoor hot spring area surrounded by a 20m tall wall. On the other side, the garden pool surrounded by towering external walls creates a still, mirror-like surface reflecting the serene environment all around. Sitting under the pergola, one can enjoy the Zen-like, tranquil ambiance of the bamboo forest.
POSAMO十邑設計為位於台北天母的鄉林大境打造景中景的山嵐野墅,善用在地環境特色,引進夾帶著硫磺與鐵礦的地熱溫泉,於二十米高的板牆內,打造了綠意圍繞的隱蔽式裸湯區。另一頭的庭院式水池,四周高圍的外牆形成戶外一隅的靜水臺,寧靜的波光反射於水面,端坐於格柵下,享受靜謐竹林的悠悠禪境。
| | |
| --- | --- |
| Editor / Creative and Research Department | 編輯/十邑創研部 |
| Date / June 23, 2016 | 日期/2016-06-23 |