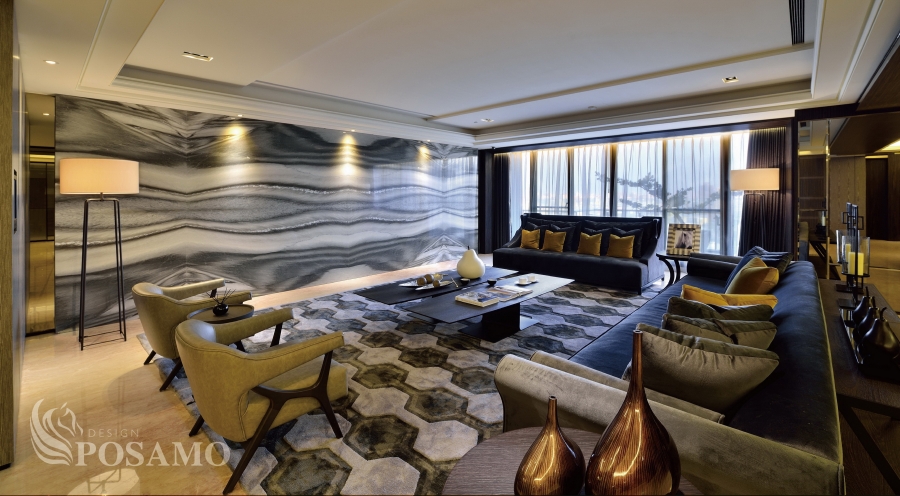 Living in the center of politics, business, economy, and trade, the leisurely spaces of Maple Green with red trees and green lawns are right across from you. A cluster of six buildings with an outer appearance designed with flying swallows – which represent blessings and power in eastern culture – are the buildings of Emperor's Place. Throw yourself into the arms of the emperor's residence and immediately enter a quiet and personal palatial space away from the hustle and bustle of the city.
位在政商經貿中心,正對面就能看到擁有紅樹綠草等休閒綠地的秋紅谷廣場,六棟外觀以東方建築中象徵福氣、權位的飛燕(飛簷)造型建築群『鄉林皇居』就座落於此。投身皇居的懷抱,瞬間從車來人往的繁華都市,進入一個寧靜、獨享的皇室居所。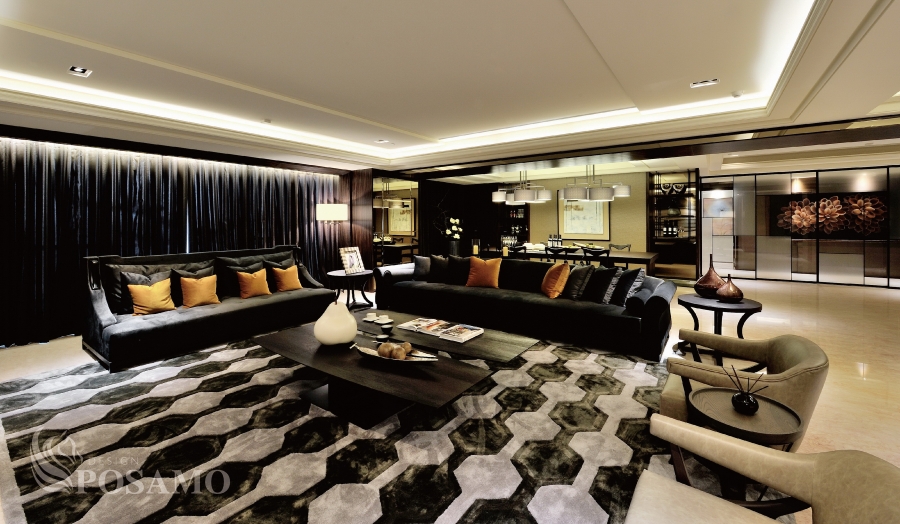 The POSAMO design team has arranged for the entrance, living room, kitchen and dining room to be connected open spaces, creating an unimpeded visual effect, which gives a more casual and spacious feel. On quiet nights with a cool breeze, the living room is arranged with a steady ink color. A piece of carpet woven with palace beaded curtains sets off the minimalist lines of the single chairs, matched with a large velvet sofa with a low-key shine, and elaborating on the aesthetic imagery of everyday life. On the other side, the main wall of the living room is decorated with an ink-colored landscape painting which pieced together with natural marble, expressing the generous texture of the space.
POSAMO
十邑設計將玄關、客廳、廚房及餐廳規劃成全然連結的開放空間,創造毫無阻礙的寬敞視覺感,空間的穿透性顯得更為流暢自在。夜靜謐,曉風涼,客廳整體選用沉穩的墨色為主調;一席以宮廷珠簾串起的地毯,襯托線條俐落的簡約單椅,搭配內斂光澤的絲絨質感沙發,鋪陳整體的生活美學情境;另一側,客廳主牆面一幅以墨色淌起的山水大畫為構思,實以天然大理石拼接而成,彰顯空間的大器質感。
Lights gradually light up in a deep sleepless night, penetrating the clear and matte squares of the elegant glass sliding door, simple yet full of detail. Open the door and feel the free movement of air and light; close the door and create a boundary between public and private spaces.
深夜未眠,光微微亮起,穿透一霧一明的玻璃方格跳拼而成的雅緻拉門,簡潔富有細節。把門敞開,你能感受整體空間中,氣體與光線的無礙流動;關上門,則是一道區隔公私領域最直接的分野。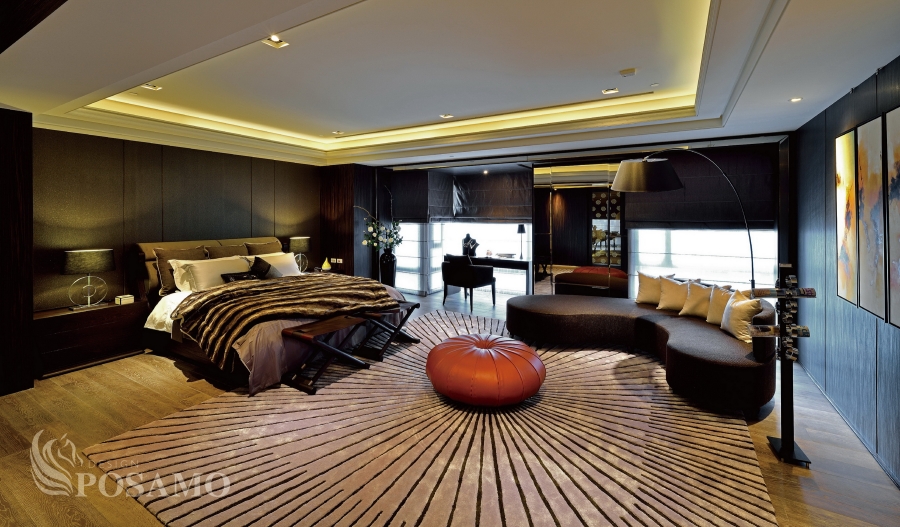 The designer has maximized the advantages of the space and placed a comfortable master bedroom here. The glass French windows allow enjoyment of the movements of the city. Taking advantage of the unique horse-shoe shape, a reading desk is placed, allowing the sitter to lift their head and take in the view, flipping pages with blue skies and white clouds.
POSAMO
十邑設計首席設計師王勝正掌握了建築致高優勢,細膩地將舒眠主臥空間規劃於此,落地玻璃可以恣意欣賞城市脈動,充分利用畸零ㄇ型空間,在此設置閱讀小桌,讓人抬頭就見風景,與藍天白雲一同翻閱書籍。
The bathing area is elegantly colored with light gold, with a bathtub placed next to the large window, allowing you to enjoy the outdoor scenery while bathing, just like bathing in natural light.

衛浴空間淡金優雅,長型浴缸橫臥在大片窗畔,泡澡同時也能欣賞窗外風光,猶如沐浴在自然光下,遠眺窗外城市風光。
Editor

/

Creative and Research Department

編輯

/

十邑

創研部

Date / September 01, 2016

日期

/2016-09-01