The distance is shortened in the city, and the taste of the city is changed by travel. Space is no more something about walls. In such a busy city, Taipei, it is important to find a place to calm the heart. Here is not only a comfort like tired birds' returning to their forest, but dribs and drabs of travel in nature.
城市的距離縮短,旅行讓城市的品味也為之改變,空間已不純然是四壁之間的事。在台北如此繁忙的城市,尋找一個地方讓心靈平靜,這裡有倦鳥歸林的舒適,也有旅行自然的點滴。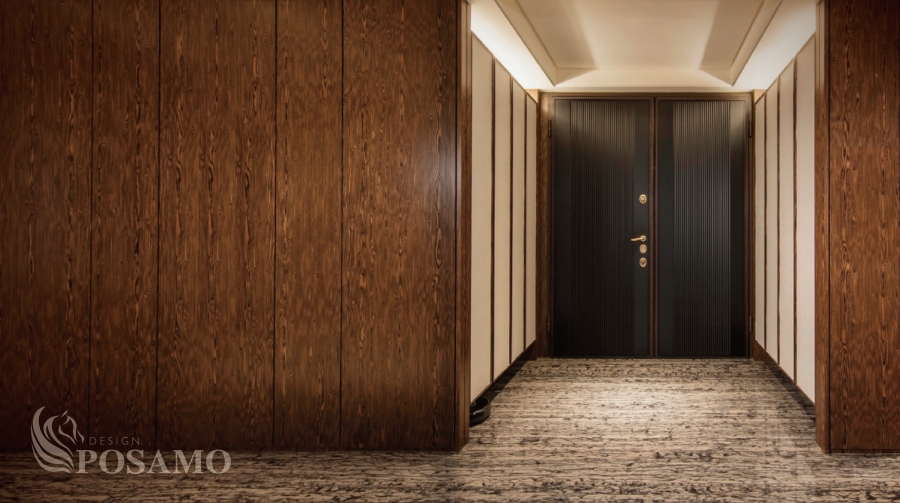 The inspiration is from the East, and the important spirit in the East is the connotation. The space design aims at the penetration and flow through levels. About the design of the front door, we adopted an idea in which the stone material is extended continuously like the ripple on the water. About the design of the walls, the grain of the Rosewood Veneer is fine and infinitely variable, and the hue is calm to make the walls look reliable. POSAMO Design Team controlled the balance between the detail and naturalness, and uses stonewood to foil the natural purity of the big river and rain forest.
靈感來自東方,而東方的重要精神在於含蓄,空間設計以層次貫穿、流動。入門,石材以河水波動的方式加以連續延伸;牆上,紫檀木皮的紋理纖細、變化無窮,色調沉穩,顯得沉穩大方。POSAMO十邑設計於細緻與樸拙之間拿捏得宜,以石材木作烘托大河雨林的自然純粹。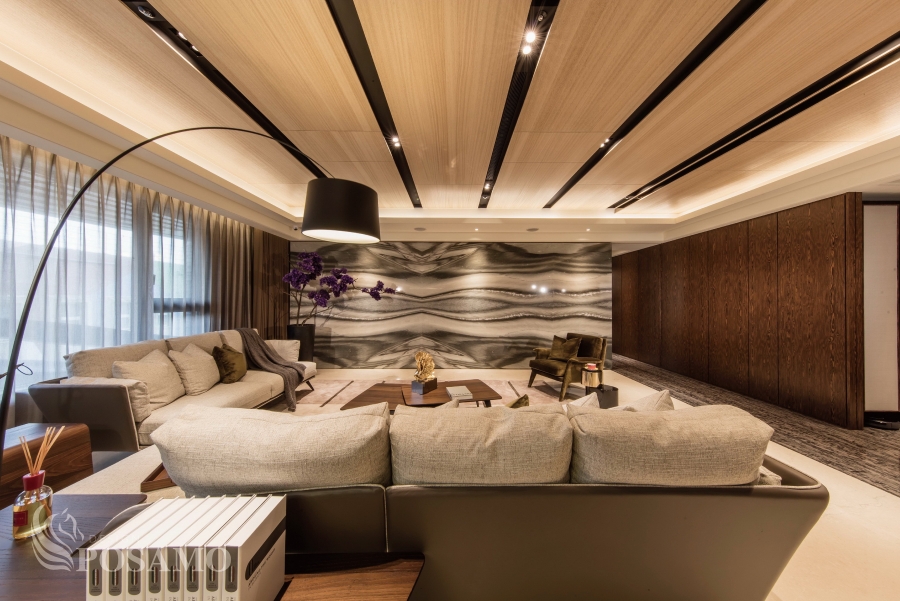 The priceless hand-made detail and art are developed thoroughly. We learned the aesthetic writing style from Chinese Calligraphy. We used Italian top stone on the main wall, continuously reproduced, and drew materials to create the beautiful totem-like down feather, which is fine and restrained. We interlaced flax and leather to go with the three-dimensional sewing for the custom-designed hand-made couch so as to show the sense of reality on the top furniture.
無價手工打造的細節與藝術於「華固松疆」揮灑得淋漓盡致。從書法中汲取美學筆勢,主牆以義大利頂級石材不斷翻版取材,拼出美麗如羽絨的圖騰,細膩而內斂。特別訂製的手工沙發,以亞麻與皮革交錯搭配立體車線,顯現頂級家具的質感。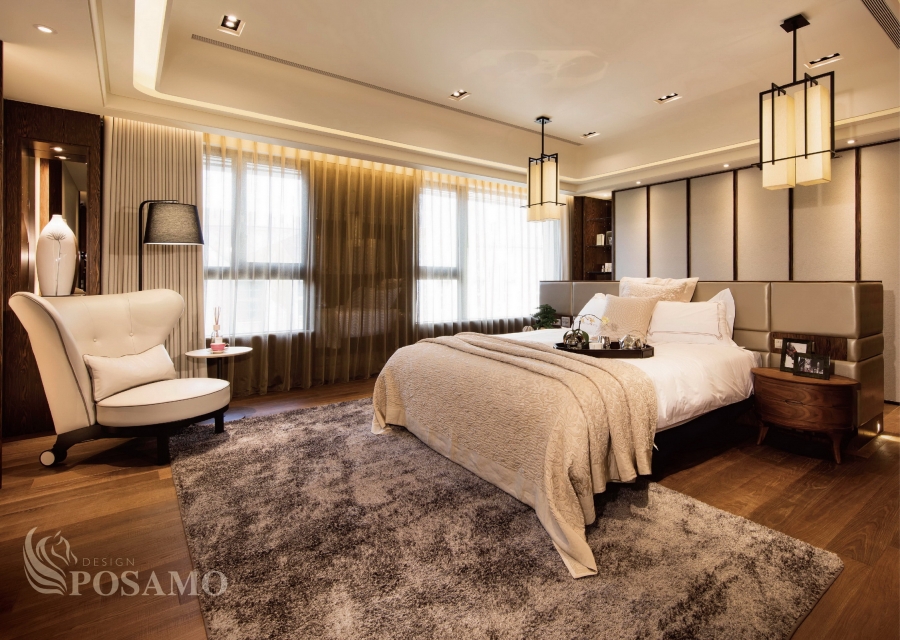 We used a variety of textures to create levels, like the round curved chamfers of the ceiling which created an elegant and trendy mood. The arrangement aims at nature, like the beige leather chair and the driftwood side table with the original flavor, which built the natural taste of the city. You will be longing for more in the small and special space.
利用各種不同質地塑造層次,天花板圓潤的弧形導角,營造出優雅時尚的基調;擺設以自然為主,米白皮革單椅,以及富有原始風味的漂流木邊几等,構築都會自然的品味,方寸之間,意猶未盡。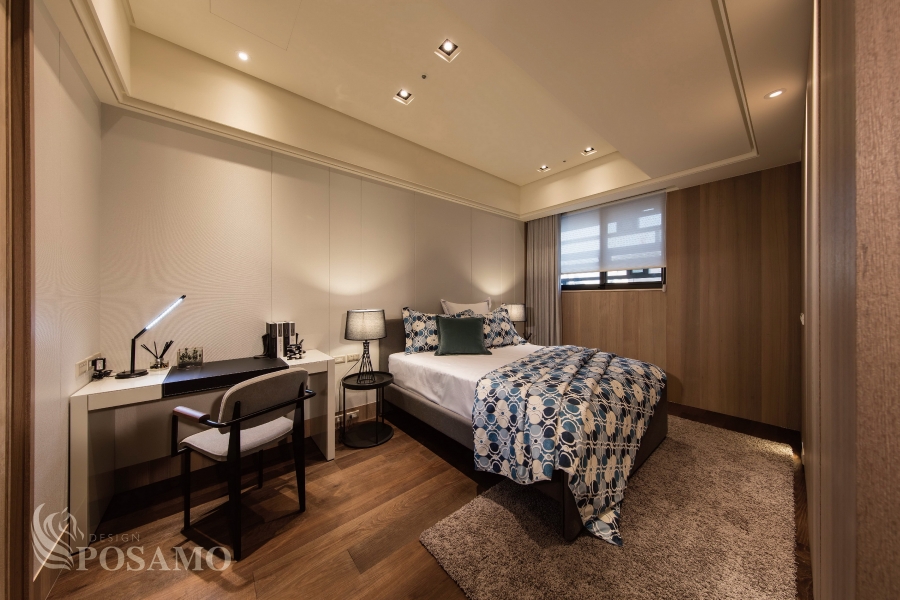 The taste begins from details. Customized furniture with the simple and personalized design went with the bed decoration using blue and white geometrical patterns in the boy's room.
品味就從細節開始,男孩房簡約有個性的客製化傢俱,搭配藍白跳色幾何圖案的床飾。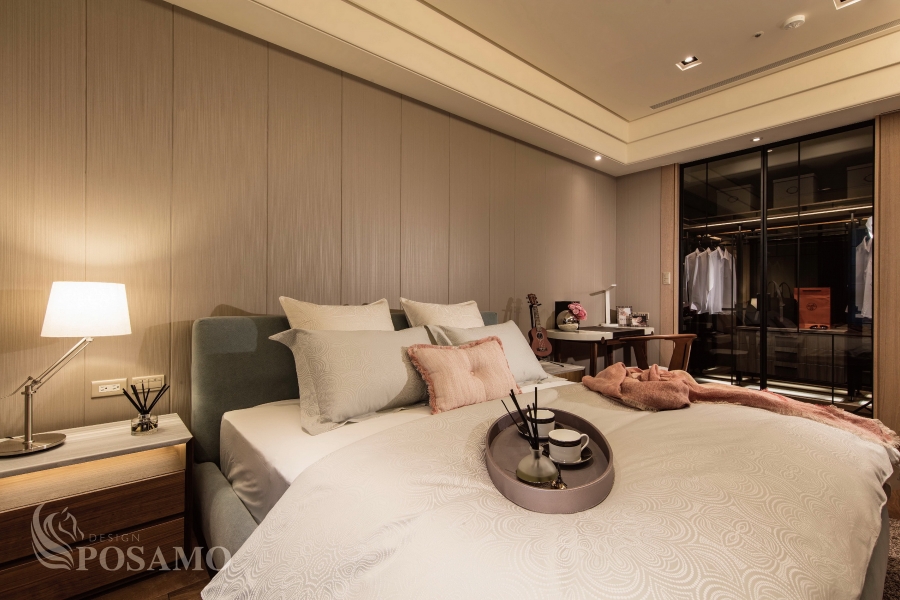 The girl's room is a boutique taste with a few mysterious and typical styles. A variety of ingenuities were collected to show the convenience for the display, the practicability for the storage, and the convenience for the use. The customized door frame of the dressing room with MirageBlack is arranged next to the natural woodiness to show how amazing the modern room is.
女孩房帶點神秘具代表性的精品風味,在此匯集各種巧思,展示的方便性、收納的實用性、使用的便利性,客製化的更衣間門框配上黑色鋼琴烤漆,與自然木質擺設一同呈現為之驚艷的摩登房。
POSAMO Design Team designs space with reductive thinking, and focuses on details to show material expressions, which allow the taste of travel to fill the suitcase of the heart!
POSAMO十邑設計用還原的思考作設計,著墨於細節呈現材質的表情,讓旅行的品味佈滿心中的行李箱!
Editor

/

Creative and Research Department

編輯/十邑創研部

Date

/November

08, 2016

日期/

2016-11-08