以海潮為靈感──青島涵碧行館山別墅A戶
Inspired by the ocean - The Lalu Qingdao Villa A
The large French windows facing the Yellow Sea offer a commanding view of the boundless ocean. As you soak up the morning sun, gaze into the azure water in the distance to clear your thoughts and find inner peace.
面向黃海的大片落地窗,擁抱無邊際海洋。清晨,感受陽光照耀,將視野望向極遠處,思緒如湛藍海水,安穩靜定。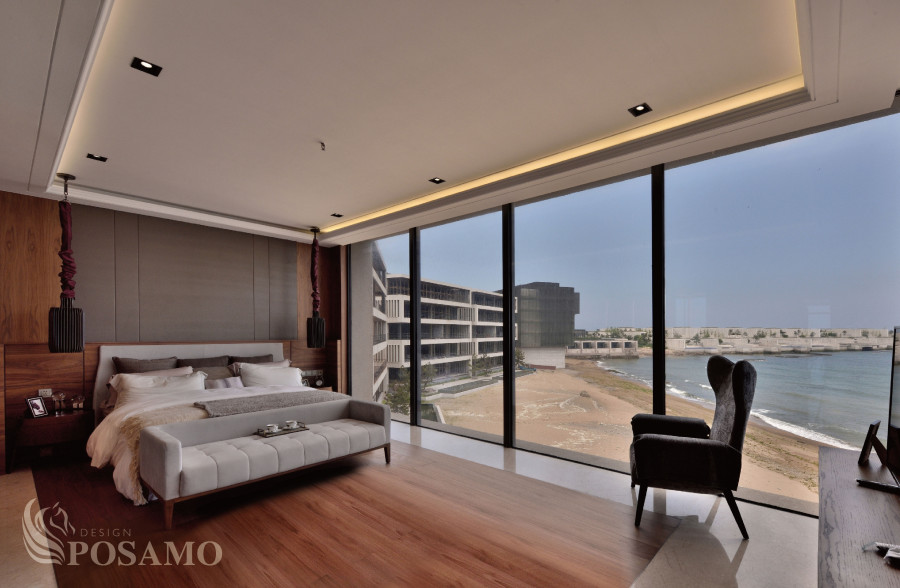 The walls and floor of the bathroom in the master bedroom form a unique scenery that is reminiscent of clear waves slapping against the rocky shore, immersing the space in splashes of gentles white waves. As you admire the morning light and sunset in the independent bathtub, there is a sense of serenity and coziness in the air.
主臥衛浴牆面與地面,猶如清澈海水拍打在岩石上形成獨特風光,海岸激起的白色浪花,溫柔披覆於空間之中。獨立中島浴缸,沐浴晨光與夕陽,心神隨之舒緩。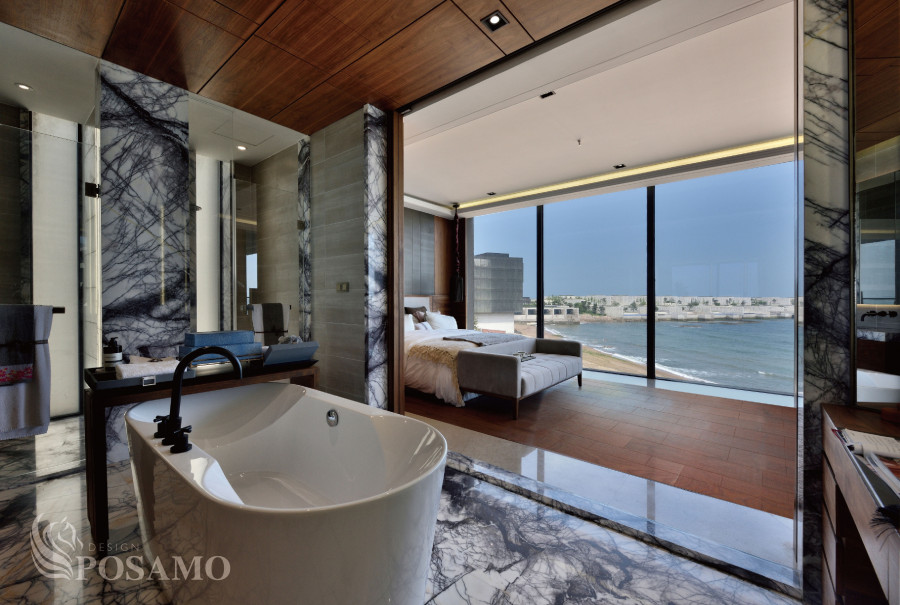 A picturesque sea view surrounds the building. From the vestibule to the dining table, living room and the desk, the separated spaces unravel before your eyes, leading to the magnificent sight where the sea and the sky blend seamlessly in the horizon. The main wall of the living room draws inspiration from the timeless underwater cavern, where the grains of the stone evokes a sense of tranquility as if they are a mysterious motif.The ceiling's wind-like, the fluid design echoes the aquamarine-colored chairs, coral red artworks and the glistening cultural and creative display cabinet on the left to infuse light and warmth to the undersea world.
如畫般的平靜海景包圍著建築。從玄關、餐桌、客廳至書桌,一層層空間,依序開展,迎向海天一色。客廳主題牆以沉睡萬年的海底洞窟為概念,石材紋理如神祕圖騰,呼喚靜謐。天花造型設計如風的流動,對應海洋藍單椅、珊瑚紅藝品,左側發亮的文創展示櫃,為海底世界,注入光線和暖意。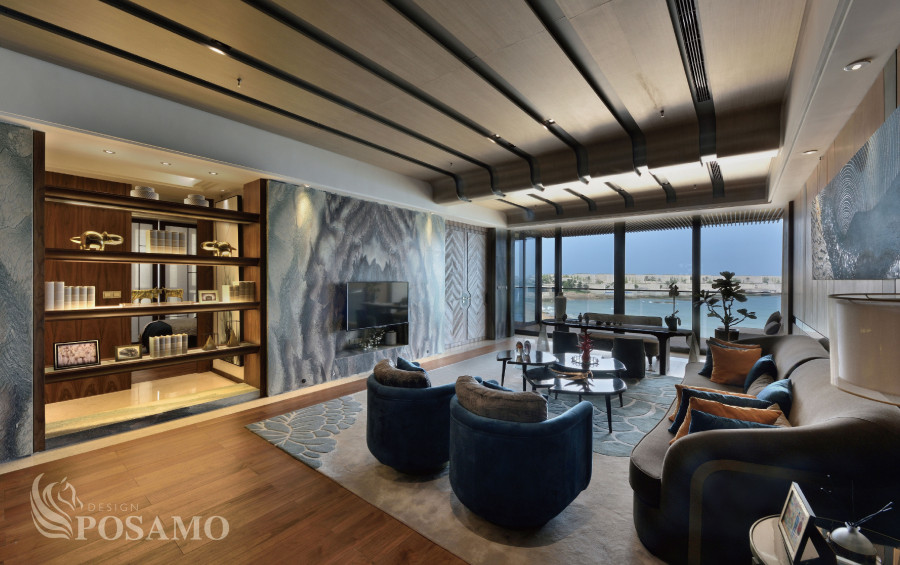 The wooden lines in the sky expand to the ocean as if merging with the tidal waves. When the moonlight shines down on the water it creates shimmering reflections of light. The designer has incorporated such imagery into the design of the cabinet partitions to engender a special dining ambiance.
天空中的木質線條向海延伸,彷彿與潮浪融合。想像月光灑落水面,一片粼粼波光,設計師將之融入展示櫃屏風設計,讓用餐獨具氛圍。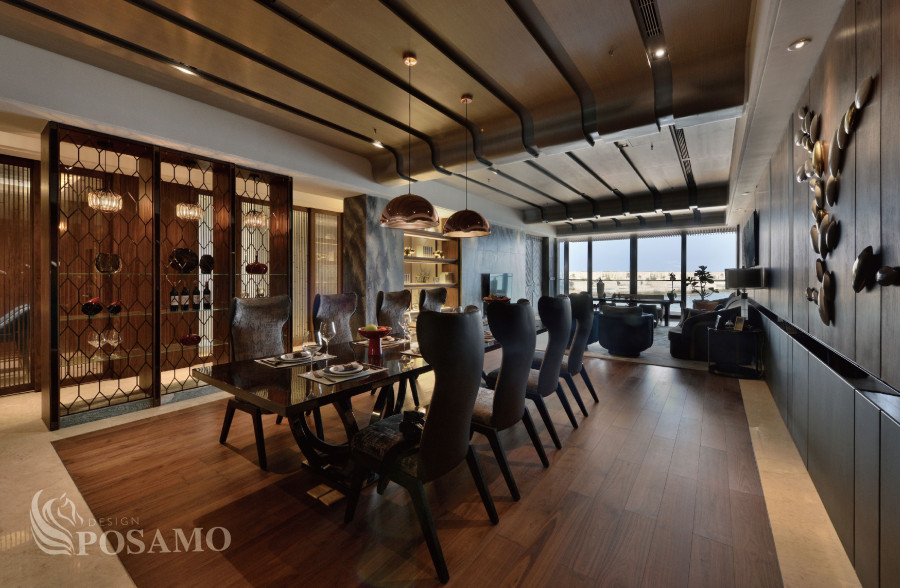 Looking at the ebb and flow of the tidal waves, you may also savor a cup of tea, read a good book or chat with your close friends and family. Live your life like the ocean, be free and limitless.


凝望潮浪來去,品茗、閱讀、談心,生活當如海洋,寬廣自在。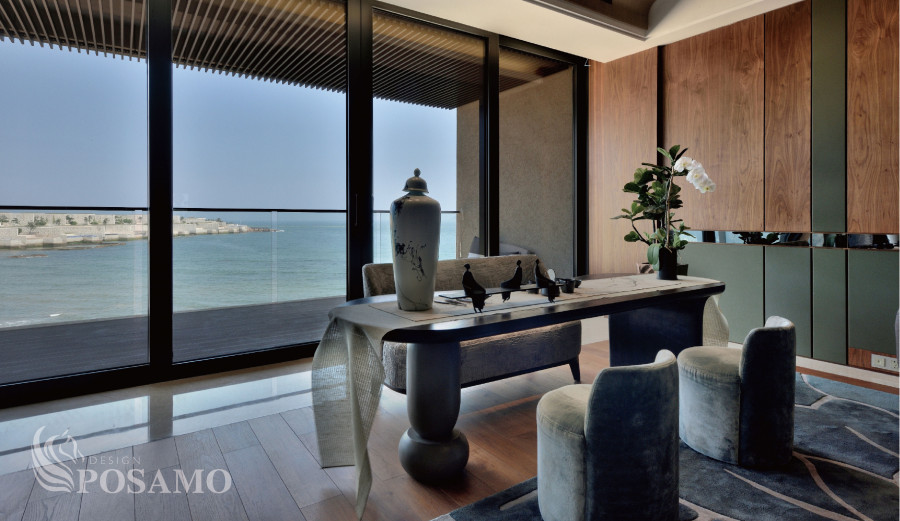 | | |
| --- | --- |
| Editor / Creative and Research Department | 編 輯 /十邑創研部 |
| Date / Jun 18, 2021 | 日 期 /2021-06-18 |