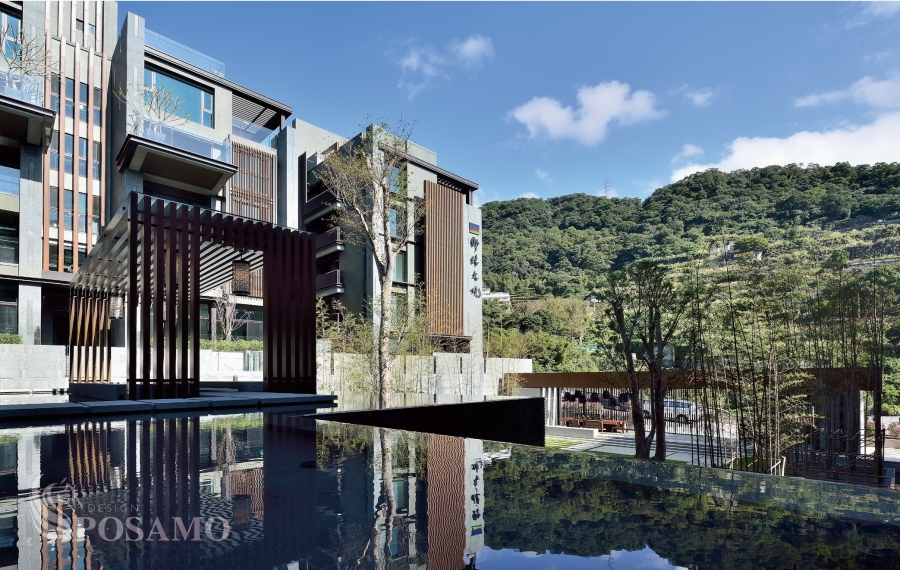 Embracing the valley and breeze – Dialogue between architecture and luxuriant greenness.
Standing on the vast stretch of sloping field on Zhongshan N. Rd. in Taipei City, one will be greeted by the scent of sulfur wafting through the air by the wind. In order to ingeniously blend the architecture with the natural environment, POSAMO's team of architects and landscape designers have jointly created landscape building cluster that combines seamlessly with the surrounding ecology. The 8 villas are regarded as gigantic trees rising out of the earth, where wooden colored metal window grilles are used to form the vertical visual effect of the building's façade. Together with the towering trees around the complex, they create an enchanting, almost forest-like aura, the picturesque scenery extends nearly 2,000 hectares.
迎著山谷微風 與綿延綠意對話的建築聚落
站在台北中山北路前遼闊的坡地上,風裡夾帶的硫磺味陣陣撲鼻而來,為了使建築巧妙地融入自然環境,POSAMO十邑設計的建築師與景觀設計師,攜手打造了一處與四周生態無縫接軌的景觀建築聚落。將八棟別墅視為從大地生成的巨型樹木,以一根根木紋烤漆金屬製成的隔柵折窗,形成建築外觀垂直語彙的視覺效果,與四周環繞的參天大樹,共同營造出如森林般引人入勝的情境,秀麗的山水氛圍一路延伸近二千公頃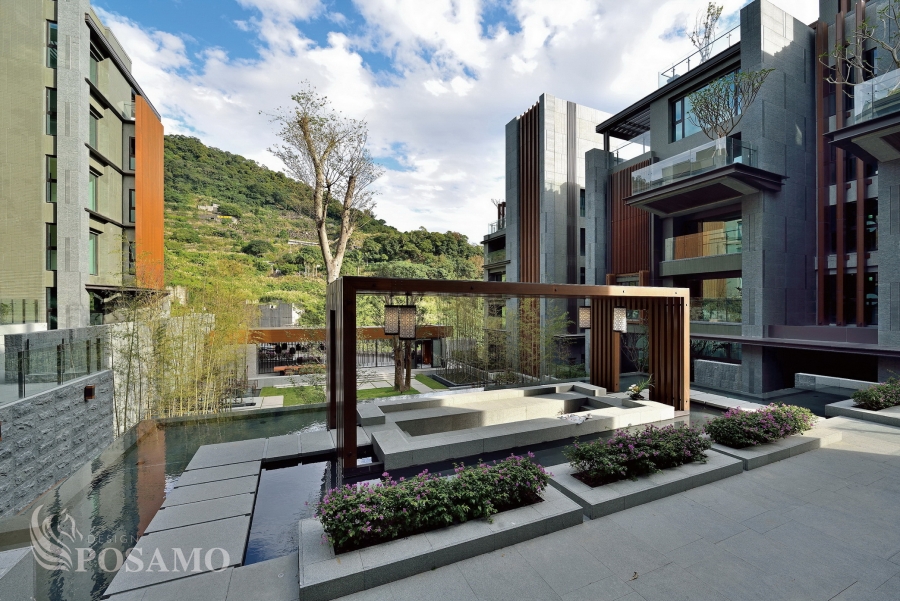 The stacked design is the most significant characteristic of the villas. The interior of the duplex villa separates open areas such as the living room and dining room from private areas. Open the French windows by the dining room, the interior dining space can be extended to the wooden deck outside, so that sunlight can enter the space and people can dine in the company of Mother Nature. The 3m wide suspended balcony outside the master bedroom is surrounded by glass screens. In consideration of the visual aesthetics of the lower residents, the base of the balcony is adorned with WPC. Outside of simple aesthetic function, the design also manifests the philosophy of green construction materials and environmental protection. The rooftop garden can be sculpted into a landscape garden or alfresco social area, where people can look into the vast expanse of greenness while enjoying the gentle breeze of the valley.
上下疊戶的設計是這裡的一大特色,樓中有樓的室內空間,將客廳、餐廳等開放式場域與私人領域分隔。敞開餐廳旁的落地窗,室內用餐空間立即向外延伸至景觀木棧臺,陽光入席,與大自然共享佳餚。主臥外三米寬的懸挑式陽台,周圍以玻璃帷幕打造,考量下疊戶的視覺感受,選用環塑木美化陽台底部,除了美觀功能外,也落實了綠建材節能環保的理念。頂樓空中花園,可打造成造景庭園或露天交誼區,迎著山谷裡的風,眺望眼前的遼闊。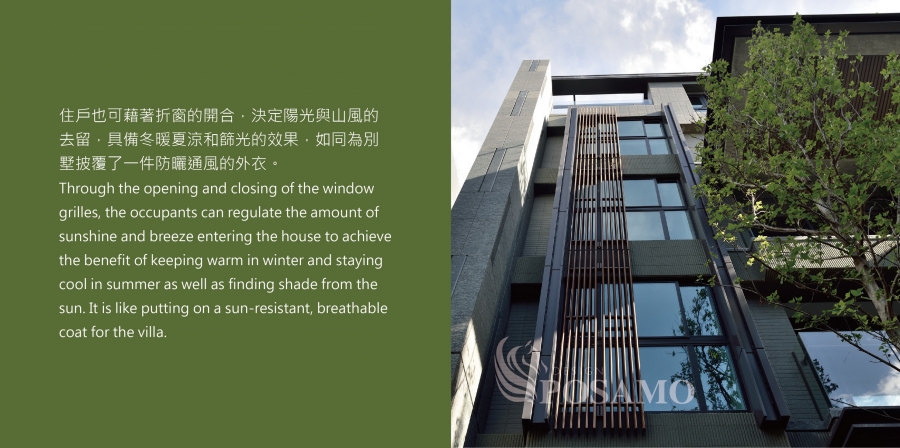 The building is no longer the only main body in the environment, as the POSAMO design team has incorporated the picture perfect scenery and the verdant surroundings into the design to create the Shining Resort amidst the natural environment in Tianmu, the "Most beautiful back garden in Taipei."
建築不再是環境中唯一主體,POSAMO十邑設計邀請天光水色與綿延綠意共襄盛舉,在號稱「台北最美後花園」的天母,落成台北鄉林大境與自然比鄰而居的理想生活。
| | |
| --- | --- |
| Editor / Creative and Research Department | 編輯/十邑創研部 |
| Date / June 20, 2016 | 日期/2016-06-20 |