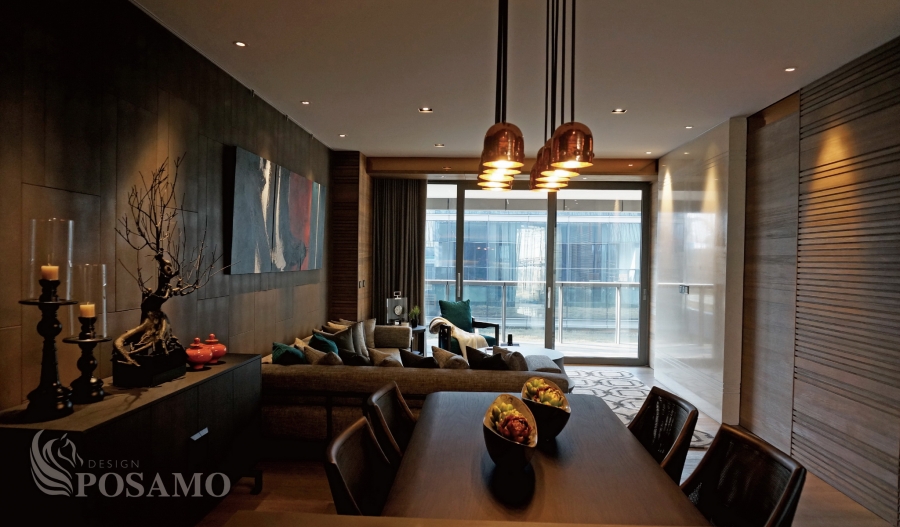 For thousands of years, the Yangtze River has been praised for its magnificent landscape. The infinite river flows non-stop. The sky and river merge into one, accompanied by green gardens to constitute a charming landscape. The Lalu, Nanjing of Shining Group, Inc. is located at the most beautiful site of west Nanjing River – Binjiang landscape belt. Situated elegantly between Yangtze River and Yangzi Jiang Dadao, here, you just need to sit and lie down at will, you can get close to the landscape of Yangtze River at the closest place.
千百年來,長江一直為之稱頌的莫過於讓人一見傾心的大美風光,源遠流長、連綿不絕,江天水色與得天獨厚的園林綠意相伴,總合成迷人的風景線。鄉林南京涵碧樓即位於南京河西最美的濱江風光帶,優雅矗立於長江與揚子江大道之間,在此,你只需要隨興坐著、躺著,便能從近處親近長江風光。

The wall in the living room is dissected like the layering of old Nanjing City. Pearl fish skin from the south is used in the fashionable painting. A themed "Phoenix flies towards wutong tree," the phoenix wings are applied into the space.The dining room is delimited neatly in the simple kitchen island, configured in U-shape deluxe service.
客廳牆面分割如同金陵古城牆的層層堆砌,搭配南方珍珠魚皮帶入時尚畫作,以「鳳凰飛梧桐」為主題,將鳳凰尾羽翼納入空間。餐廳,簡約的中島俐落劃出餐區領域,係以頂級服務的U型配置。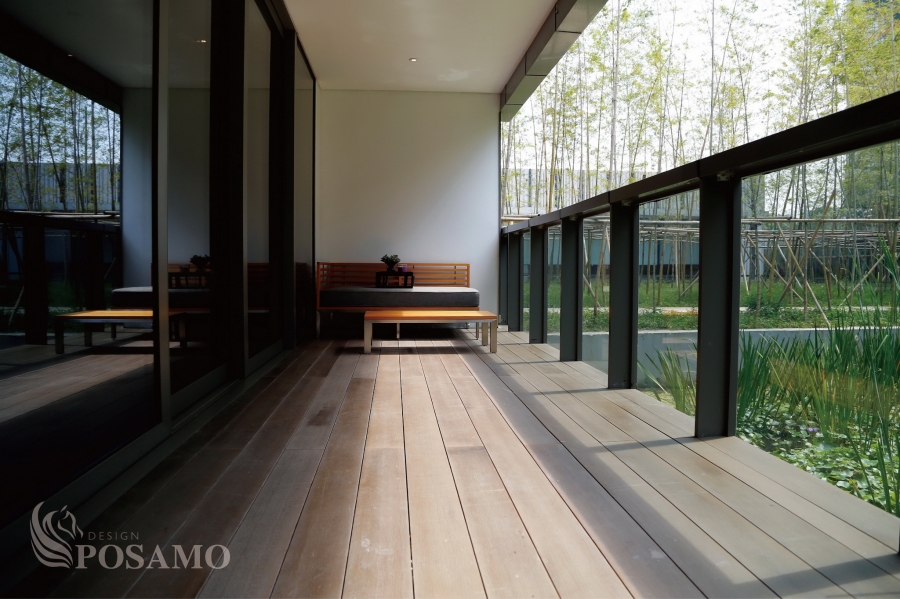 A one-hundred-meter green bamboo woods creates a leisure utopia. The spacious French window in the living room allows inhabitants to see the landscape of the river by just raising their heads. The outdoor scenes are extended indoors to blur the boundary between indoor and outdoor. In the balcony, the natural light brings in long and broad planes, constituting light and shadow smoothly.
百米蒼翠竹林,塑造悠然世外的境界。客廳面大片落地開窗,抬頭便能遠眺滔滔江景,將室外景緻引入,模糊室內外邊界;露臺上,汲引自然光的長平面豁朗、流暢,醞釀光影。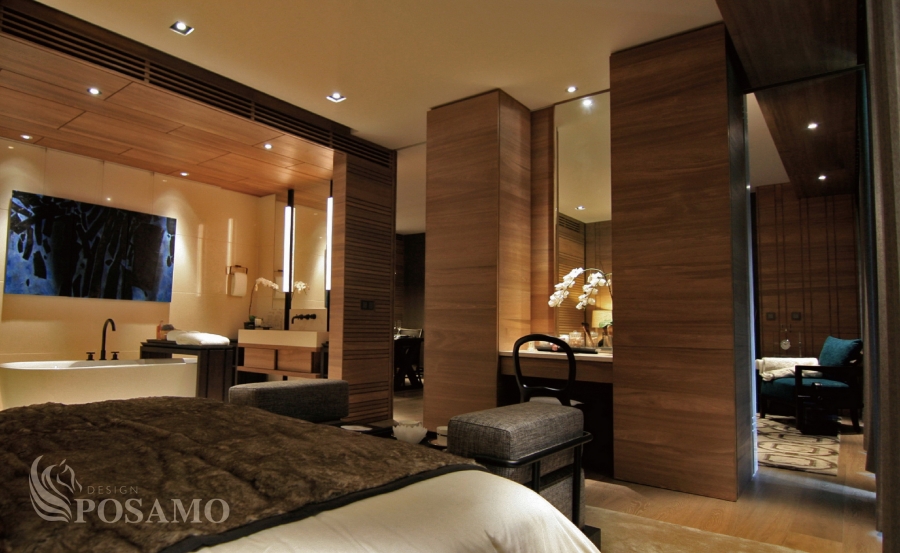 The wall neighboring to the owner's bedroom is retracted to replace the closed structure. The left and right open façade enriches the depth and flow of space. The POSAMO Design Team employs the idea "open the door to see another world" again to constitute a new horizon. Hidden sliding doors are arranged to provide stealth spatial expressions.
鄰接主臥室的牆堵內縮,取代封閉結構改以左右透空的的立面豐富空間景深與流動感,POSAMO十邑設計再以「打開門看見另一個世界」擘劃新局,安排豐富的隱藏拉門,適時提供隱密需求的空間表情。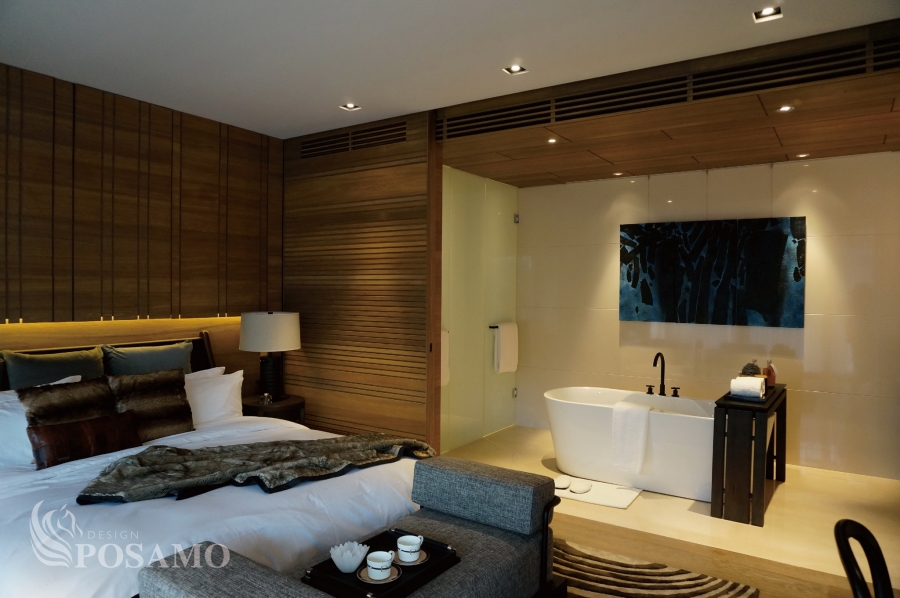 The spatial format preserves the completeness of the contour, creating complacent layering. The owner's bedroom uses clean and simple colors of top grade Chinese cypress veneer to renders a relaxing and tranquil atmosphere. The ultra-simple wall dissection brings new visual interpretations. The independent bathtub in the bathroom island allows users to enjoy the river landscape when taking a bath. The pure white contemporary design is matched with smoky color faucets as decorations. The set tray over the tub and the cabinet in the style of "benches" in the north provide spaces for putting small objects.
空間形式保持輪廓的完整性,創造自在的層次感。主臥室運用頂級檜木皮素淨的色澤,營造放鬆沉靜的氛圍,牆面的極簡分割亦帶給視覺全新的詮釋。主臥衛浴的獨立中島浴缸,泡澡同時也能欣賞江景;淨白當代造型配以煙燻色澤龍頭點綴,浴缸上套几結合北方「凳子」的造型擺設櫃,提供放置之機能需求。
Editor

/

Creative and Research Department

編輯/十邑創研部

Date

/

September 05, 2016

日期/

2016-09-05