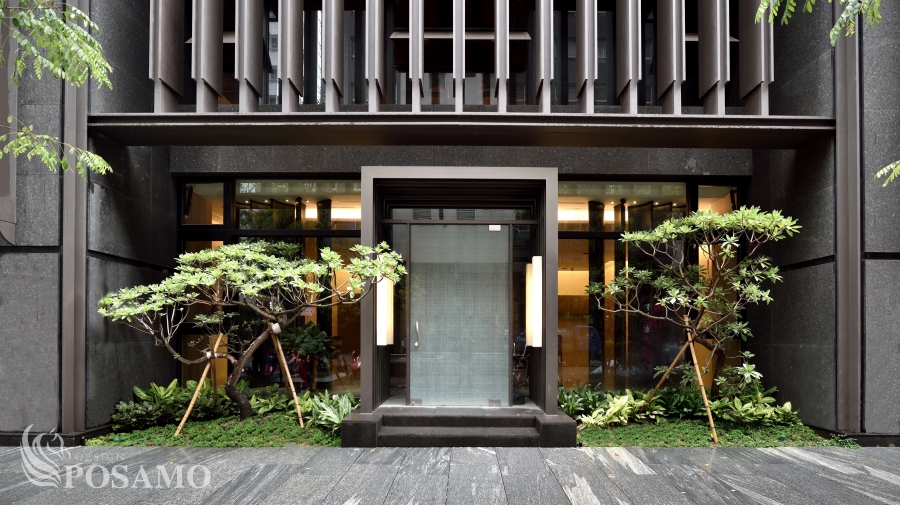 Dream Gallery – Taking Flight
The entrance of Dream Gallery is designed as a picture frame. Several horseshoe-shaped metals pieces are placed one after another, extending backwards, creating a birthplace for dreams. The pillars hint at the depth of space on the left and right, with the trees of dreams planted on both sides of the entrance, composing an imagery of the birth of dreams. The doorframe is combined with dreamy glass designed with fabric-like texture, expressing the uncertainty when chasing one's dreams, and the sense of adventure that evokes curiosity and invites exploring.
夢想藝廊 • 起飛
Dream Gallery入口如是畫框,一片片ㄇ型金屬鐵件逐漸向後延伸構成的大門,是夢想起飛的開始,特意包柱強調左右兩側的深度,在入口旁的空間種植了夢想之樹,圍塑出逐夢的意象。門框中夾紗玻璃的朦朧,POSAMO十邑設計巧妙地帶出追夢過程的不確定性,象徵冒險性十足,令人想一探究竟。
Upon entering the Dream Gallery, the sight is attracted by the sculpture with eyes that are steady and filled with assurance, creating a calm and peaceful sensation that is immediately felt by the viewer. The tone of the cassia tree fills the entire space, while the ceiling is layered with a smooth wooden design, with the right angle bent downwards, adding to the gracefulness. The door is designed with the concept of leaf veins, presenting the right amount and proportion of natural beauty. The floor is a large canvas paved in Italian serpeggiante with patterns that look like pastel brush strokes, layering soft delicate colors. The texture reflection of the material also enlarges the space, bringing out an elegant artistic temperament.
進入夢想的藝廊,眼前的雕塑凝聚目光,表情誠懇篤定,散發出沉穩、靜雅的感覺,讓觀者能立即感受到空間的氛圍。香桂木的褐色調性充斥整個空間,天花板則是設計一層平整的木質造型,僅於右上角落摺下一角,素雅氣質。大門門片尋葉脈紋理走向分割,比例美感自然恰到好處;地板則是一塊大畫布,選用義大利進口的水晶木紋石材拼接紋理,就像是一道道粉彩大筆刷過,堆疊的色彩質地柔軟細膩,反射的材質特性放大空間,亦帶出喬立雍容的藝術特質。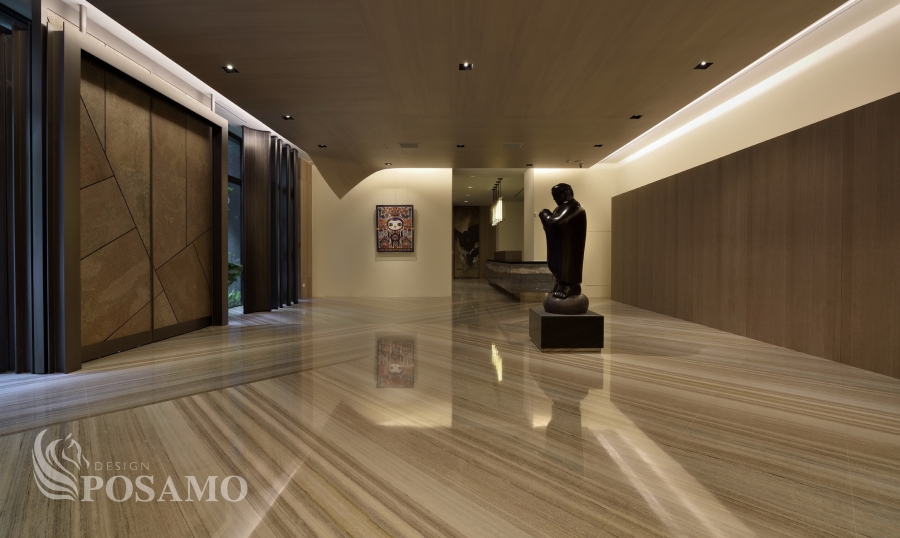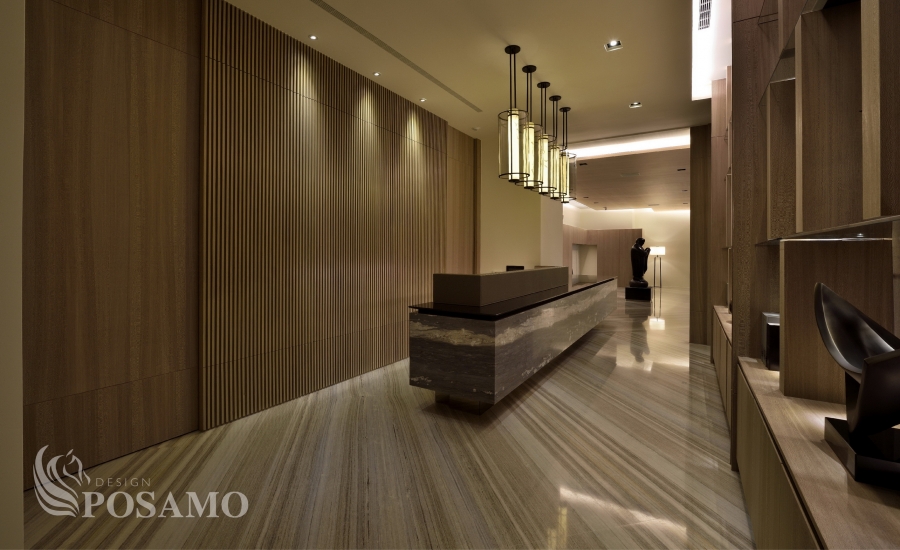 Without excessive bright colors, the reception continues the simplicity of the entrance, with the reception area wall formed by long delicate wooden grilles in an orderly manner. The reception desk is composed of various materials that are harmoniously arranged, from the bottom mirror-like metallic to quality stone material imported from the blue Turkish coasts, and hand-weaved exquisite leather. Each stitch is tightly secured, and each angle later adjusted with meticulous precision.
沒有多餘的鮮豔色彩,接待區延續入口藝廊的樸實,細長的木格柵整齊有序地形成接待區的端景牆。接待櫃檯材質多樣卻和諧呈現,由底部鏡面金屬到土耳其礦區引進頂級的蔚藍海岸石材,拼接上手工一針一針的縫製的精緻皮革,每孔針洞都得使力拉緊縫線,讓縫線牢牢的相互抓緊,後細心的調整縫線的角度,才能一絲不苟。

The art wall that separates the VIP room is a stack of dreams. An invisible door behind the art wall that can be pulled out instantly transforms the space into two private VIP rooms. One is a standard room with a table and four chairs with seating covered with light grey-toned flax fabric, contrasting the black beech chair legs. Another side of the room provides a deeper colored long table that seats larger numbers of people, with seven chairs covered with leather. The simplistic neat design distributes a natural sensation.
隔著VIP room的藝品牆是夢想的堆疊。將藏在藝品牆後方的隱藏拉門關上,便是兩間保有隱私的VIP room。一邊是一桌四椅的標準配置,座椅以輕淡灰調的粗亞麻布料包覆,與染黑的山毛櫸椅腳相襯。另一邊則是滿足人數較多時的深色長桌,七張椅子皆以皮革包覆而成,外型線條簡明適切,塑出自然的氣息
。

Returning to basic living attitudes, the reception room for top clients is simple and elegant. The partition-less structure presents spacious design, with large French windows behind the sofa presenting access to nature and interaction with outdoor greenery. The dining area is decorated with hanging lighting; several glass balls with onion-like patterns are strung with Chinese red strings at various lengths. There is no excessive design in the kitchen, only vertically lined light brown wood harmoniously arranged with similar-toned door leaf, creating a rich cultural style.
回歸最根本的生活態度,頂級客戶的招待空間簡約、素淨,無隔間的設計通透無阻,沙發後方大片落地窗,隨時能碰觸自然,與外頭綠意互動;點綴用餐區是一顆顆垂吊的燈飾藝術,中國紅的細線串起透亮的玻璃球,有高有低,圓整的球型上有著如洋蔥般的紋理;廚房區域沒有過多修飾,淡棕的直木紋與同色系木色門片和諧交織,充滿人文風味。
| | |
| --- | --- |
| 編輯/十邑創研部 | Editor / Creative and Research Department |
| 日期/2015-08-25 | Date / August 25, 2015 |