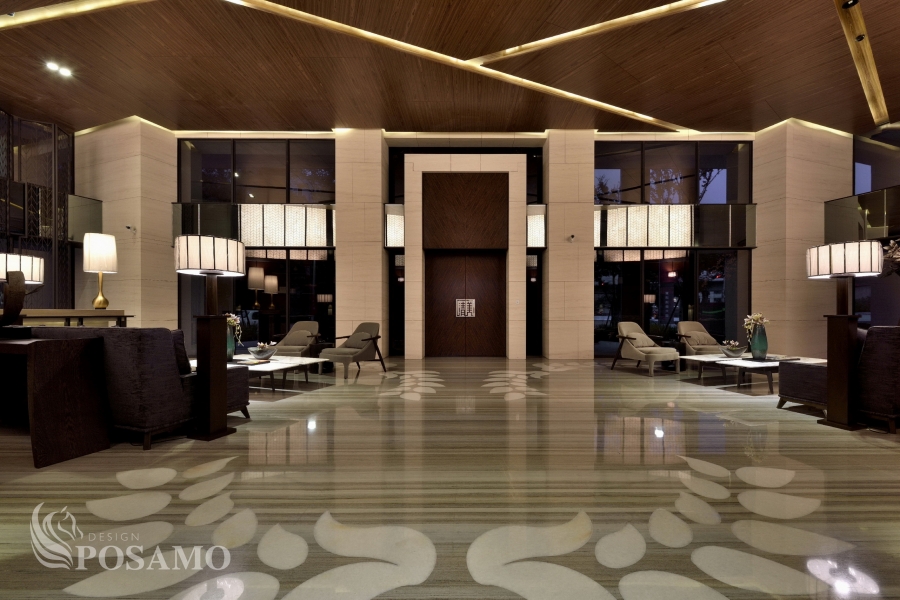 Welcome to the library in the forest.
Opening the classical and elegant gate of Power Home Kiyomi in Taichung, it is just like being in the scholar's study room located in the forest. The totem made in the shape of laurel leaves changes the scents of Mother Nature into symbols; it is branded on the floor in the hall. The welcome gate piled up by books like a city wall is standing at present; the high-ceiling design of this gate makes it like a huge bookcase. In the hall, the bookcases extending from left to right give people the feelings like wandering in the "book ocean" at ease. Take a look at the bright and spacious hall; the design of its ceiling is in the shape of irregular geometry and this eases the sense of ceiling's weight it gives people. The genial sunshine passes through the French glass windows into the hall and the soft light shows through the feather-like hollow design. With the reflections from the mirrors around the hall, it makes the hall flowed by warm currents. Lingering in the hall of Kiyomi is like strolling in the forest. At this moment, it is a delight to brew a pot of hot tea and enjoy your own reading time.
歡迎光臨 森林裡的藏書閣
推開寶鴻清美古琢的大門,如同來到文人雅士座落於森林的書房,由月桂葉編織而成的圖騰,將大自然的味道轉換成符號,烙印在大廳。佇立眼前的迎賓門,是由層層堆疊的書本落起的城牆,挑高的設計,宛如立地書櫥,左右延伸至兩側的書櫃,讓人自由徜徉於漫漫書海;寬敞明亮的大廳內,抬頭望,不規則分割的幾何造型,緩和了天花板的重量感,讓挑高的空間更顯廣闊,多了一分輕柔;外側頂天的玻璃大窗,引進戶外灑落天際的和熙陽光,融入這書香四溢的大廳;羽毛造型的簍空設計透出暖烘烘的柔光,運用四周鏡面的反射,形成了環繞大廳的一股暖流。在清美大廳停留有如漫步在森林,這時沏上一杯熱熱的茶,享受屬於自己的閱讀時光,好不愜意。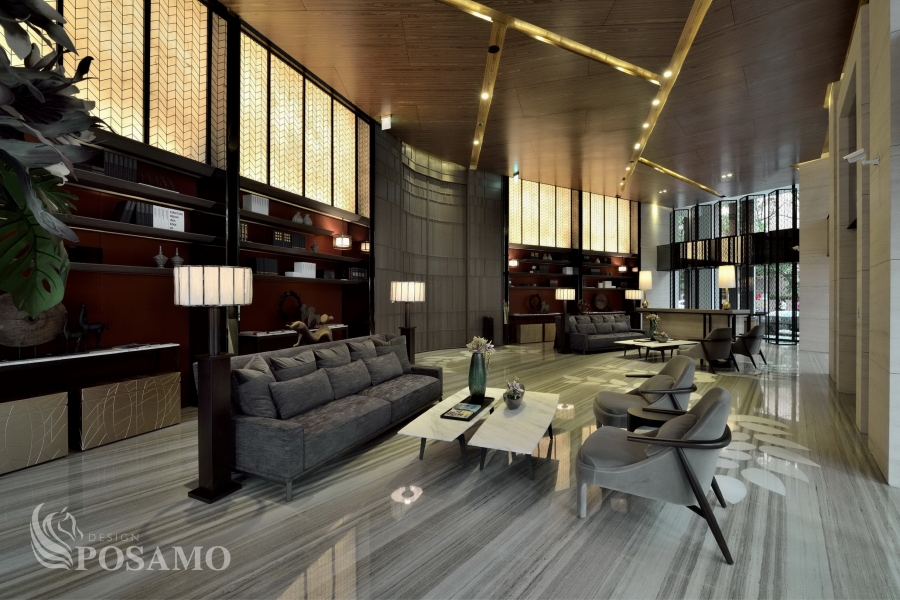 As an old saying goes, "How happy we are to have a friend from afar!" Scholars regard the world as home. The Family Room can hold numerous people and the form of its both sides is round and square. The perfect design is as if the sky meets the earth. There are seven classical brown colors on the marble floor. The design combining the bar area, sofa area and reading area together gives people a sense of security in every corner. It fully shows the respect and honor to the guests.
古語有云 :「有朋自遠方來,不亦樂乎」。文人以天地為家,可容納多人的 Family Room,兩側的空間,一圓一方,正是天與地的相遇,方圓底下,運用七種古褐色漸層的檀香木紋石打造,結合如煙波山水的吧台區、沙發區及圖書區的設計,型塑空間靜謐的安全感,讓每個角落都像在自己的房間般舒適自在,充分地展現「以客為尊」的待客之道。

The morning dew on the trees in the forest congeals into beads, and drips along the leaf margins. Before the dew drips down, it is gently picked up by a hermit strolling in the alley, and strings the dew into a beautiful pendant light.
森林大樹的朝露,凝結成珠狀,順著葉子翠綠的邊緣滴下,還未落地,被漫步小徑的隱士輕輕捻回,串成渾圓完美的露水燈飾。
| | |
| --- | --- |
| Editor / Creative and Research Department | 編輯/十邑創研部 |
| Date / January7, 2016 | 日期/2016-1-7 |