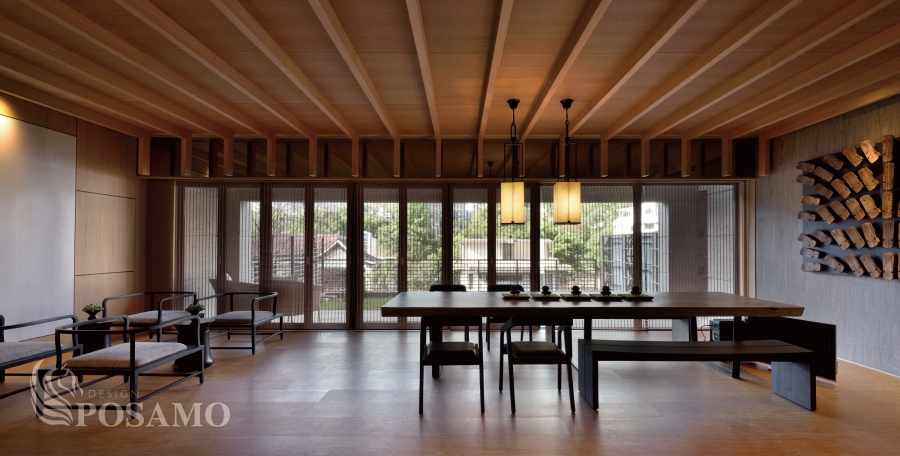 Tea amidst the mountains, a meditation the mind.
In today's cities crammed with buildings and towers, a chance for an intimate experience with nature has become an indispensable source of happiness. Located on Wenquan Road in Beitou, Forever Young has continued the prestigious reputation of Beitou Wenquan Ming Tang (Beitou Hot Spring) and the Japanese hot spring healing culture, with a Japanese house near with its wooden walls, next to a row of deciduous cypress.
山嵐茶湯 清靜觀心
在今日層樓疊榭的城市裡,能一親山水芳澤成為不可或缺的幸福感。位於台北市北投溫泉路上的鄉林玉川,銜接了青磺溫泉名湯的響亮招牌與日本特有的湯治文化,打造了一排與序列的落羽松和原木牆比鄰的和風別院。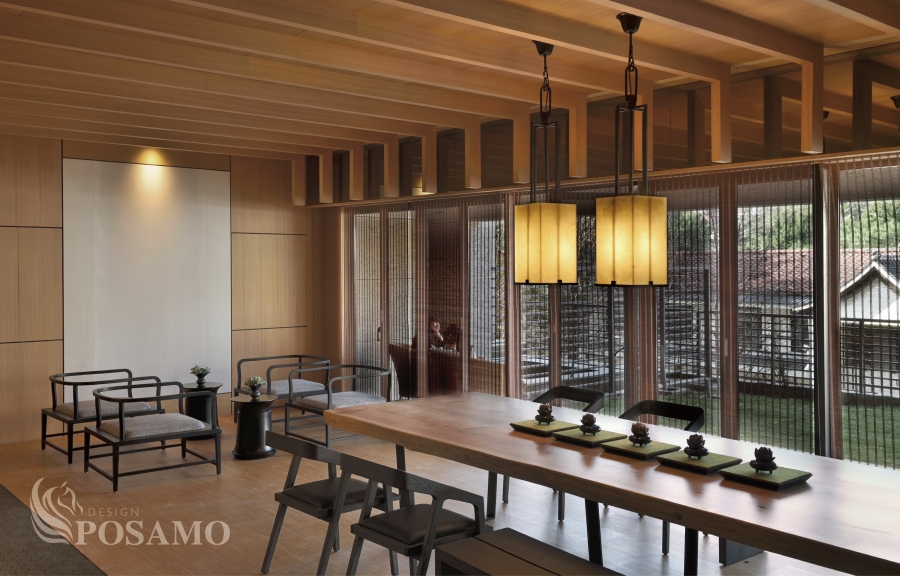 Continuing the Japanese style of the main architecture, is draws on the virtues of "harmony,""respect,""purity," and"tranquility" of tea ceremonies. Large French windows are matched with soft brown gauze curtains, satisfying the need for privacy while still providing some transparency which connects with the sunlit corridors and outside greenery, expressing the harmonious coexistence of man and nature.
延續主體建築的日式風格,POSAMO 十邑設計將茶道文化「和、敬、清、寂」的涵養延伸至接待中心。大片的落地玻璃,搭配輕柔的淺棕色紗質透光幕簾,滿足心理上不被打擾的隱私需求,也保留了視覺的穿透感,並與室外的日光長廊及綠意連接,展現人與大自然間的和諧共容。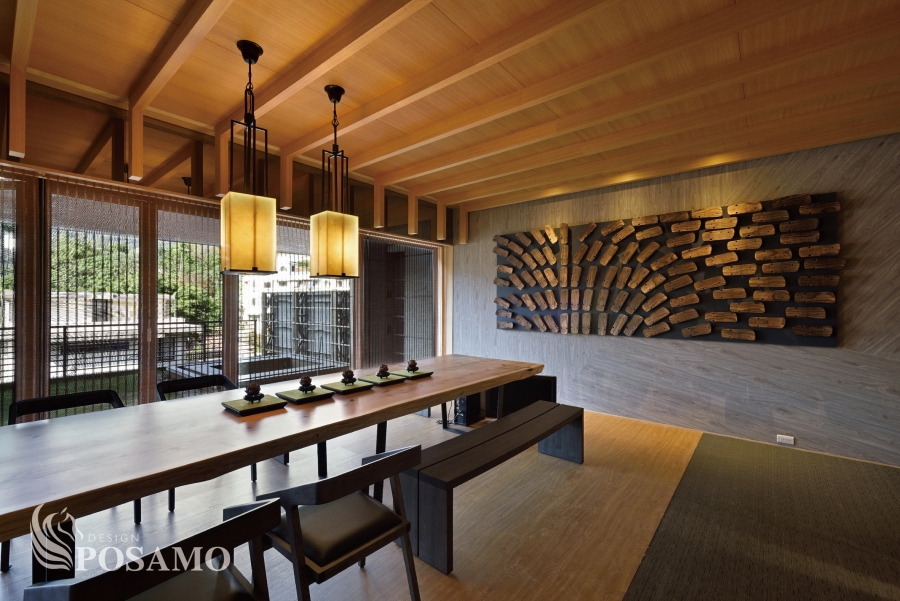 The Japanese tea ceremony is not merely about the enjoyment of tea, but also courtesy and rituals between individuals. The long wooden table and chairs arranged on both sides bring people close together, sitting face to face in order to converse in an equal manner. This design provides a space for meeting friends over tea sampling, and is arranged in harmony with the common area for four on the other side.
日式茶道不只是品茶,更在探究人與人之間的禮儀之道。長型木桌與兩側座椅的擺設,將賓客的距離拉至咫尺之間,彼此相對而坐,以平等的姿態互相交流,打造以茶會友的品茗區,與另一側的四人交誼區,共享和睦的茶屋氛圍。
| | | |
| --- | --- | --- |
| | | With the color of tea as the basic tone, the walls and ceiling are paved with warm Vietnamese Cypress, matched with brown-toned furniture. Two graceful lighting fixtures emit yellow light, creating a tranquil environment that combines an otherworldly spirit into the space.The reception center of Forever Young skillfully creates a leisurely and comfortable slow living space that is wrapped with zen-like soft elegance through organized lighting, materials, proportion, and warmth. |
| | |
| --- | --- |
| Editor / Creative and Research Department | 編輯/十邑創研部 |
| Date / April 14, 2016 | 日期/2016-04-14 |