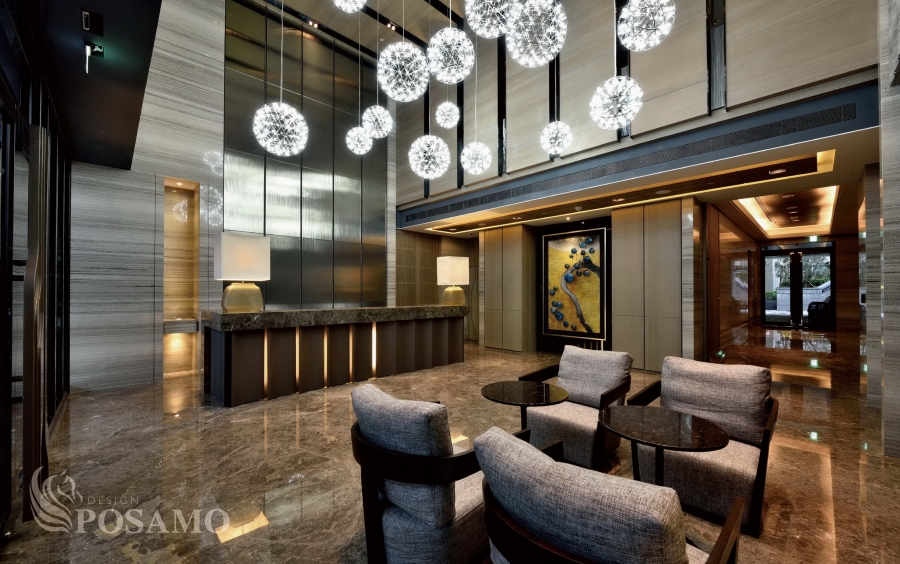 Entering New Memories of Taipei
Mengjia is mentioned in the praise "First is Tainan, second Lugang, third Mengjia". Its superior location and status enabled convenient water transportation, which later made it a prosperous city for trade. Fudooshin Shen of Taipei City is located in the area that was previously known as Mengjia, filled with traces of city, history and culture. The POSAMO design team collaged memories of the city's history and combined them with innovative public design.
艋舺有「一府二鹿三艋舺」的美稱,因其水運地位優越而有舟楫之便,成為貿易重鎮,萬年繁華。位於舊名艋舺的臺北市富都新紳,這裡有城市、歷史與文化的痕跡,POSAMO十邑設計以城市文化的歷史記憶剪貼,融入新創的公共設計。
Back in the day, Mengjia was the city that never sleeps. The once glittering city lights are transformed into installation lighting. With its emphasized high ceiling design, the space of the lobby displays a floor to ceiling visual that expresses the concept of indomitable spirit and symmetry. The lobby is an extension of the host's taste. Visitors are immediately greeted with an end-view art once the door is opened and upon entering. This artwork is created on an ancient map that looks like a treasure map, combining the history of Taiwan glass. The ancient city on the shores of Mengjia along with the glamorous and colorful glass art are transformed into the new image of culture and creative artworks of Taipei.

化成裝置燈藝;強調挑高設計的大廳,空間鋪陳 floor

to ceiling頂天立地與極對稱的概念。大廳是主人品味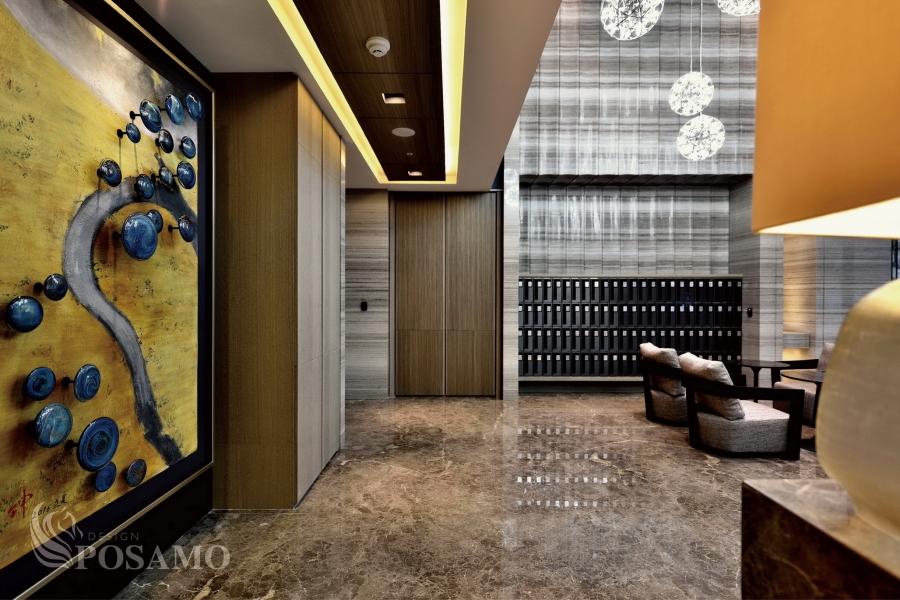 The entire space expresses the essence of eastern imagery, matching local culture with the style of Italian luxury. The flooring of the lobby is paved with brown Begonia stone, added with Italian grey Wenge in the walls for a contrasting but harmonious effect of patterns. This design adds a hint of freshness and fashionable style to the subtle and simplistic atmosphere. What's more impressive is that the POSAMO design team selected elegant Serpeggiante marble as material for the mailbox area. Each is polished into curved shapes to present a magnificent large piece of wall with slight movements in its stillness.
整體空間以東方意涵為底蘊,當地文化背景結合義大利的精品調性。Lobby 地坪以棕色秋海棠石鋪陳,搭配壁面義大利灰雞翅木,紋路對比而協調,為低調簡潔的氛圍注入清新時尚;引人讚嘆的是POSAMO十邑設計於信箱區後牆,特別選用優雅的水晶木紋石角材,逐一雕琢拋光成弧,呈現一面靜止中輕微波動的壯觀大牆!
| | |
| --- | --- |
| Editor / Creative and Research Department | 編輯/十邑創研部 |
| Date / June 06, 2016 | 日期/2016-06-06 |