The Forest on the Riverside Island
I remember I stood on Datun Mountain with my friend the other day. I closed my eyes to feel the breeze waking up the land. The green grass and autumn Chinese silvergrass that had slept all night were dancing to the wind. The fresh air was mixed with different fragrances. I felt the infinite life force arriving secretly. The reminiscence makes me indulge.
想起那日與友人站在大屯山頭,閉著雙眼,融融的山風輕輕地拂醒大地,睡了一夜的綠草秋芒,隨之起舞,清新的空氣夾雜著各種香滋滋的味道,我感受無數的生命力悄悄的來到,至今回憶,依然沉迷不已。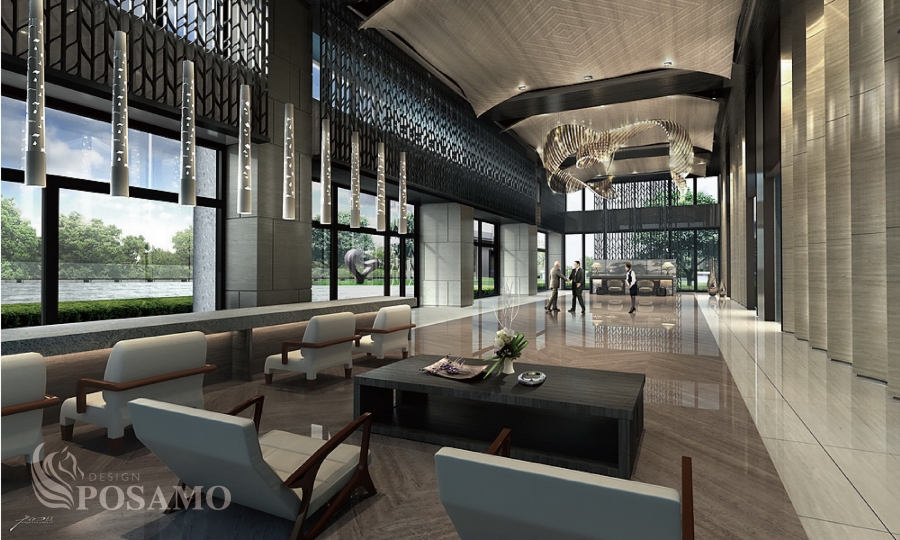 The spacious Tamsui River and the thousand-feet red mangrove is dyed scarlet in twilight. The magnificent nature breeds numberless power and lives. The wind introduces to Datun Mountain penetrates freely among the construction project of Taipei Genius neighboring to the priceless nature. The POSAMO Design Team uses fluid spatial design to transplants the dense red mangrove woods on the wetland at the river mouth to become the hollow mangrove grilles in the lobby, where the light and shade of branches and leaves scatter everywhere. It replies to the green grass and blue pond surrounding outside.
壯闊的淡水河與綿延千尺的紅樹林染上殷紅霞光,恢弘的自然生態孕育了無數能量與生命,引入大屯山的風,自由穿透於與無價自然比鄰的精聯紅樹林建案。POSAMO十邑設計以通透流動的空間設計,移植了河口濕地茂密的樹林,簍空的水筆仔格柵,枝葉光影灑落大廳,回應外頭碧草綠茵與湛藍池水的環繞。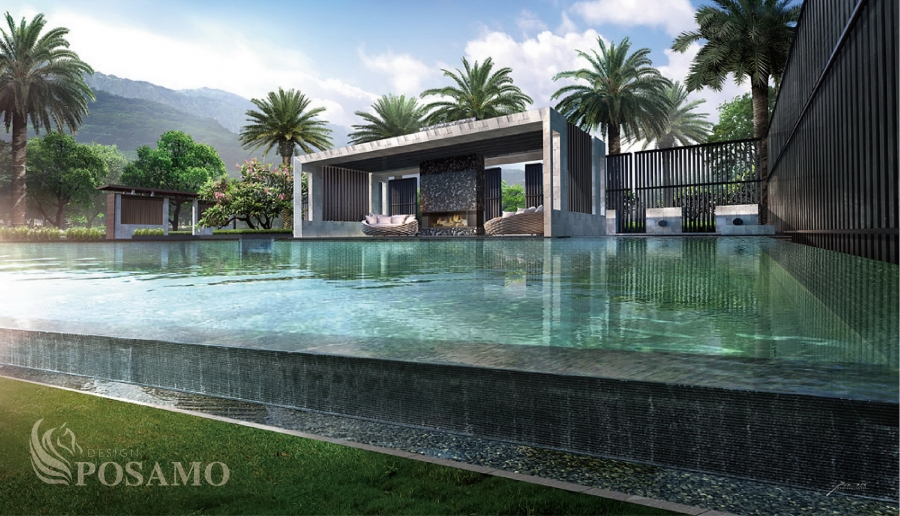 The courtyard is covered with dense trees and grass, constituting the forest landscape of "island within the island." The infinite swimming pool reflects the white clouds in the sky like a mirror as if they are floating on the water. Situating on this "floating line island," users find it amazing to appreciate the infinite fairyland in front of their eyes.
中庭花園裡蓊鬱的草木與遠方的山巒,圍塑了「島中之島」的叢林景觀,無邊際泳池如鏡子般映照天邊團團的白雲,倘佯水中好似漂浮於空中。座臥水上的「浮線之島」,欣賞眼前動人的無邊仙境。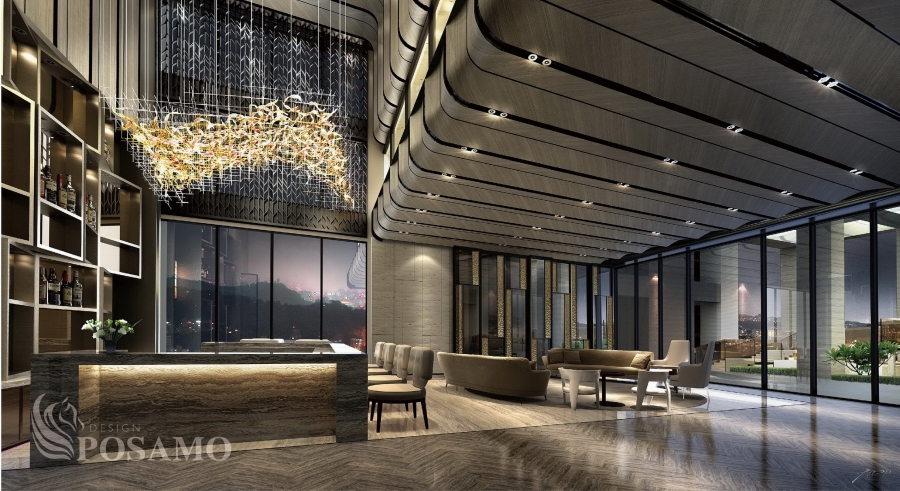 The Sky Lounge is a two-story high ceiling, along which water flows and drops, bring the water flow image of Tamsui River inside. Here it is surrounded and embraced by the lake landscape.
空中的Sky Lounge擁有兩層樓高的寬敞格局,延著天花漫流而下的流水設計,將淡水河潺潺流動的意象帶入空間,在此被環繞四周的湖光山色擁抱。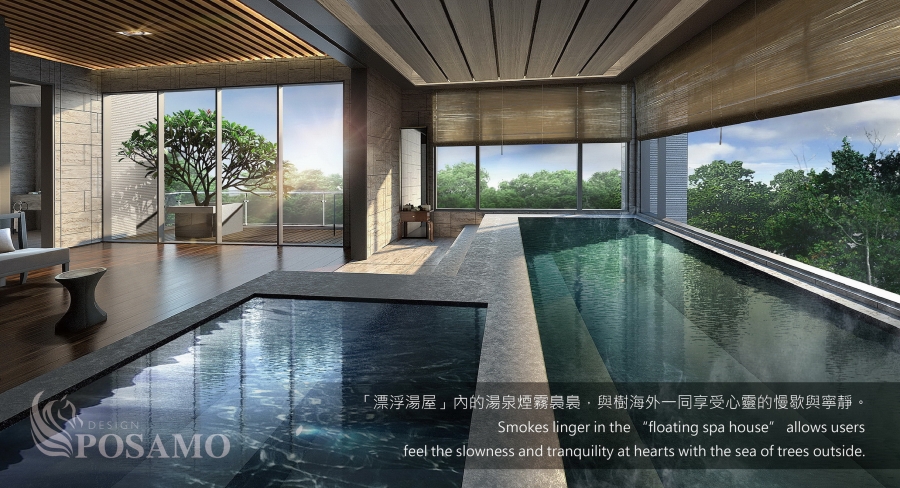 No matter whether it is the Venice like blue road or the riverside scene sprinkled with lights at night are all collected in the gym hanging one hundred meter in the air, recalling the remote Datun Mountain. The glamorous scene in front is stunning like a painting. It is so beautiful that it leaves us breathless.
不論是白日如威尼斯般的藍色公路,抑或夜晚燈火闌珊的河畔夜景,都被收納在凌空百米的健身房裡,與大屯山遙遙相望,眼前醉人的江山如畫,美的令人屏息!
Editor /

Creative and Research Department

編輯/十邑創研部

Date

/

September 12, 2016

日期/2016-09-12