Just like Wellington, New Zealand and Chicago, United States, both known for their windiness, Hsinchu, Taiwan is also known as "The City of Wind." During the winter, Hsinchu is covered with the north wind, adding a bleak beauty to the landscape; perhaps the gentle and soft quality of the city is due to long periods of caressing from the wind.
紐西蘭的威靈頓、美國的芝加哥皆以風大聞名,台灣新竹也以「風城」著名。新竹冬日北風初烈,景致有種蕭瑟的美,或許是終日在風的吹撫下,整個城市也變得柔軟…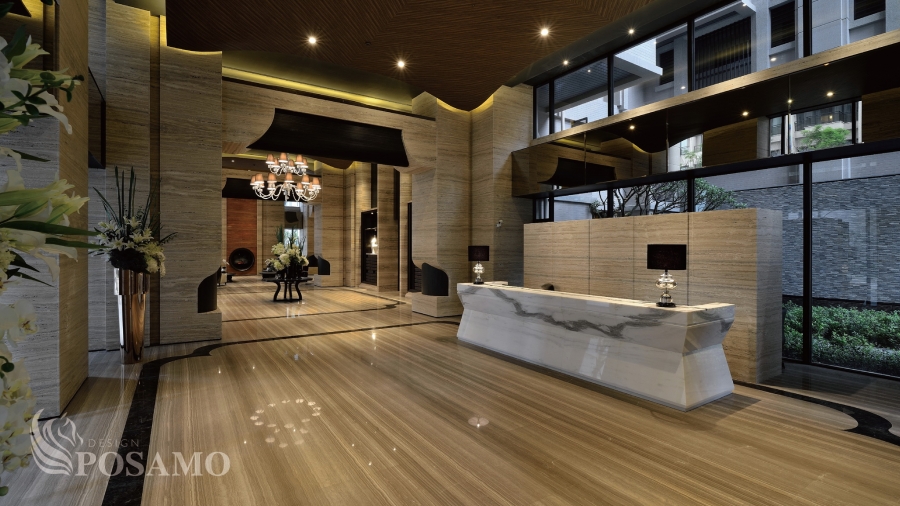 Inspired by the wind of Hsinchu, the POSAMO design team transformed the various imagery of the wind in Fu Yu Yun Ting. The "Wind Lobby" was awarded the International Space Design Award Idea Top. Designed as a long axis layout covery corridor, the lobby presents a ceiling that flows with the wind, allowing the breeze to move through the space and for the vision to stretch into the distant scenery. The round fireplace at the end becomes the focal point, while the stone-paved and textured floor extends and integrates the entire space in its own rhythm.


POSAMO十邑設計從「新竹的風」得到靈感, 將風的各種意象轉譯於富宇雲鼎,以「Wind Lobby」榮獲Idea Top國際空間大獎。大廳以穿廊式的長軸佈局,任由風吹起了天花,讓清風穿越,視線得以望向遠方,盡頭的圓形壁爐成為視覺的焦點;地鋪石材肌理有著自己韻律,延續並整合空間。

A transparent door frames the outdoor scenery, inviting the exterior greenery into the room and expressing the freedom of conversation between people and nature, enabling reading and dialogue to form naturally. As the door pushes open, the lowered seating area creates a secure space. In a sun-lit weekend afternoon, with the afterglow of the sunset shining from the sky, a group of people sits in this space, fiddling with the flowers and grass and looking out onto the view of Hsinchu, a perfect and casual day.
一道透明門,框住了景,邀請戶外的綠進入室內,表達人與自然對話的自由度,閱讀與對話在自然中生成;推開門,戶外的休息區以降板設計營造了空間安定感,在一個充滿陽光的周末午後,落日的餘輝映照蒼穹,大夥兒坐在這裡想像蒔花弄草,遙望新竹都市景,是最美好的日常。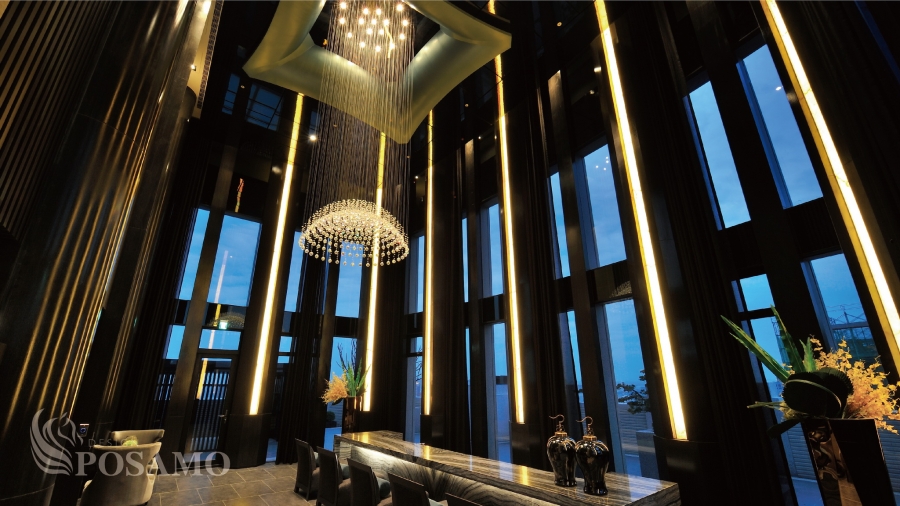 The bar on the top floor is designed with metallic ceiling and linear light pillars, stretching the space and making it seem even higher. The ceiling is inspired by a top hat with glittering chandeliers hanging from above, highlighting the dark color theme.
頂樓空中酒吧運用天花金屬反射與線性造型的光柱,空間尺度立即拉高,天花板造型以高帽檐為概念,閃閃發亮的水晶吊燈從天而降,在墨色調中形成亮點。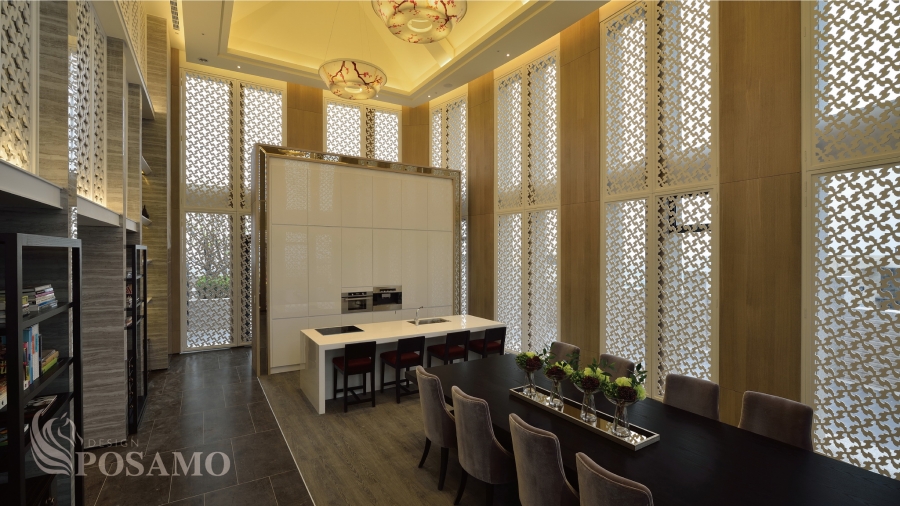 The common room is created with a white eastern theme. The white windmill totem cutwork intertwines into breathable grills while the silky texture of veneer and stone materials, the plum blossom lighting that signifies the east, are all gathered in one space, blurring the boundary between tradition and contemporary and displaying a new eastern charm.
交誼室以白東方為特色風格,白色鏤空的風車圖騰,交織覆蓋成充滿呼吸感的格柵,木皮與石材的溫潤質感,象徵東方的寒梅吊燈,各種元素聚集一體,模糊了傳統與當代的界線,傳遞出特有的新東方魅力!
| | |
| --- | --- |
| Editor/Creative and Research Department | 編輯/十邑創研部 |
| Date /Mar 24, 2017 | 日期/2017-03-24 |