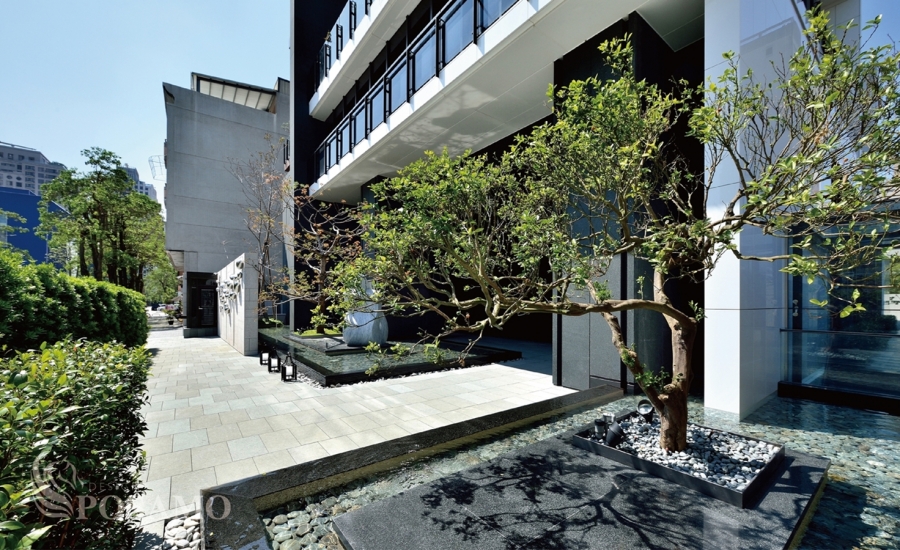 Leap into the Forest of Light and Shadow
The splashing sound of water coming from the other side of the wall transforms into water drop sculptures that look like floating clouds. Notice the old pine tree welcoming guests above the water and the wind creating ripples on the mirror pool that transmits dancing light and shadows, accompanying you as you enter deeper into the secret garden.
躍入光影森林 與墨韻共舞
將越牆而來的淙淙水聲,轉化成一道浮雲般的水滴雕塑,吸引人緩步穿越綠意盎然的牆,望見那水上的迎客老松,在風的吹動下,鏡面池上產生漣漪,豐富的光影跳躍,伴隨著你一層一層探尋秘密花園。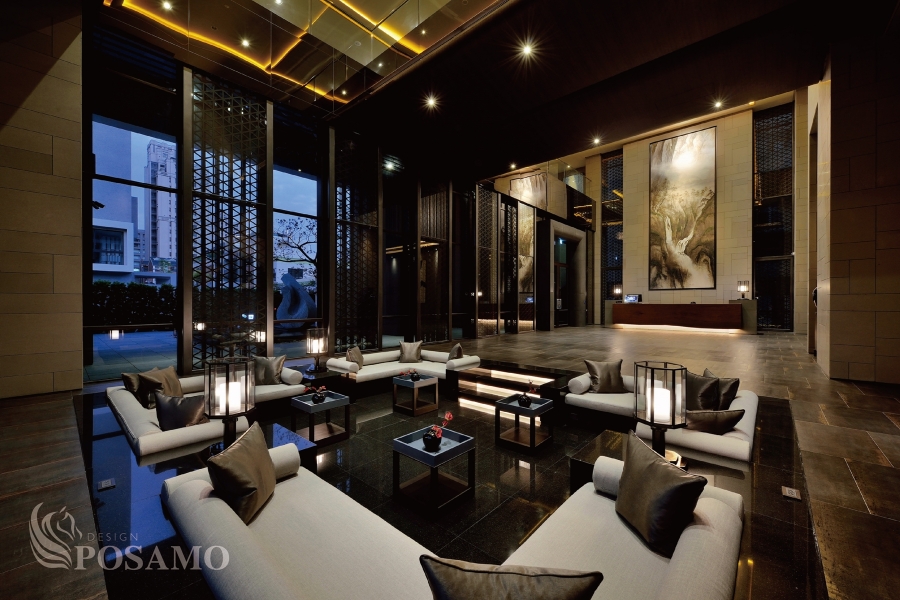 The POSAMO design team detaches the charm of ink from landscape paintings and merges the different layers of "ink, subtle, elegance" into the space design of Pop Jing Fu Chun. A sunken area is arranged in the high-ceiling lobby, while pure ink and black colors are used to separate spacing, creating a large mirror. Flax sofas are used to form layers in the space to create a mysterious sense of space that perfectly annotates the stable power of nature.
POSAMO
十邑設計將山水畫的墨韻從畫作之中抽離,以「墨、淡、雅」的層次帶入寶鯨富椿的空間設計之中,在挑高的大廳中創造沉降的Sunken,使用純墨、純黑色界定出區域,形成一面大鏡子,再以亞麻布沙發襯托空間層次,營造神奇的空間感,完美詮釋大自然沉靜的力量。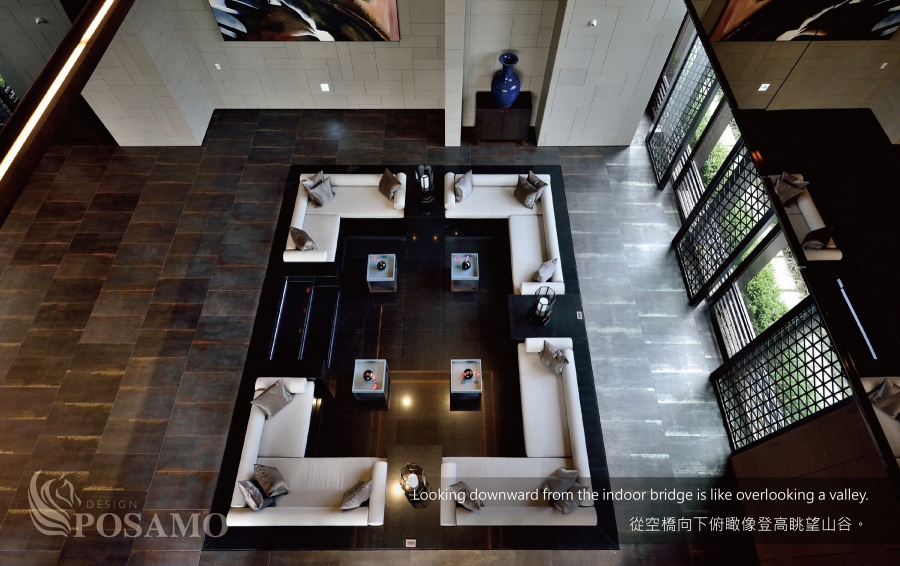 The brick-colored flooring looks like red copper that has gone through two thousand years. The surface is decorated with an ancient metallic texture while each piece creates a different effect. The natural light ink limestone on the wall gives a majestic impression like the grandeur of mountains. Follow the patterns, and you will see an indoor bridge with the design of an open book. Located above the bridge is the library of Pop Jing Fu Chun.
地上的磚色,如同歷經2000年的紅銅,表面變化創造千年金屬質感,每一塊都有不同的反應;牆上,淡墨的天然灰石材,似高山峻嶺氣度不凡,循著紋理,抬頭能看見一座空橋,空橋造型就像書冊子打開書頁的感覺,富椿的藏書閣便在上方。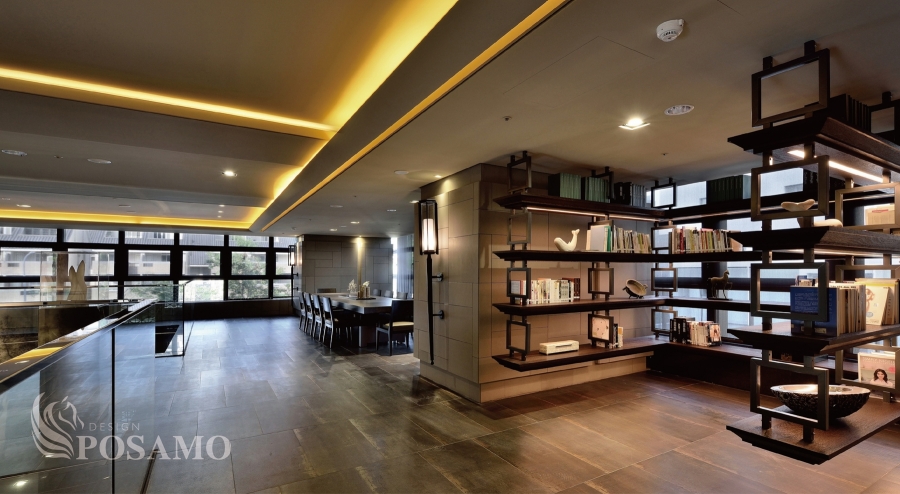 With the changes of time, the uneven rain-like lighting is like a personal lighting expert for the library, adding a sense of elegance. King Wang, chief designer of the POSAMO design team, succeeds in preserving the outdoor light, shadows of the interior, and moments of leisure in our busy daily lives.
隨著時間變化,參差錯落的光雨,宛若藏書閣專屬的打光師,為空間增添了內斂優雅氛圍;

POSAMO

首席設計師王勝正留住的是窗外的光、場域裡的影與繁忙生活中的片刻悠閒。
Editor /

Creative and Research Department

編輯/十邑創研部

Date / Aug 17, 2017

日期/2017-08-17