喬立 圓容公設──傳承在地記憶,凝聚美好時光
Succeeding Local Memory; Gathering Good Time
Hundred years ago, here in Li-Tou-Dian St., Nantun Dist. of Taichung City, is the place where farm tools were forged. Blacksmiths cast the memory of the time with a red light. Posamo Design begins with the local tales to build the metal drapery flying across the main hall, rolling up the splendid glory of the years and telling the long history.
百年前的臺中南屯,犁頭店街鍛造農具,打鐵舖吞吐著紅光,鑄寫時代記憶。十邑設計以在地故事出發,於大廳打造飛天金屬布幔,捲動歲月風華,訴說悠悠歷史。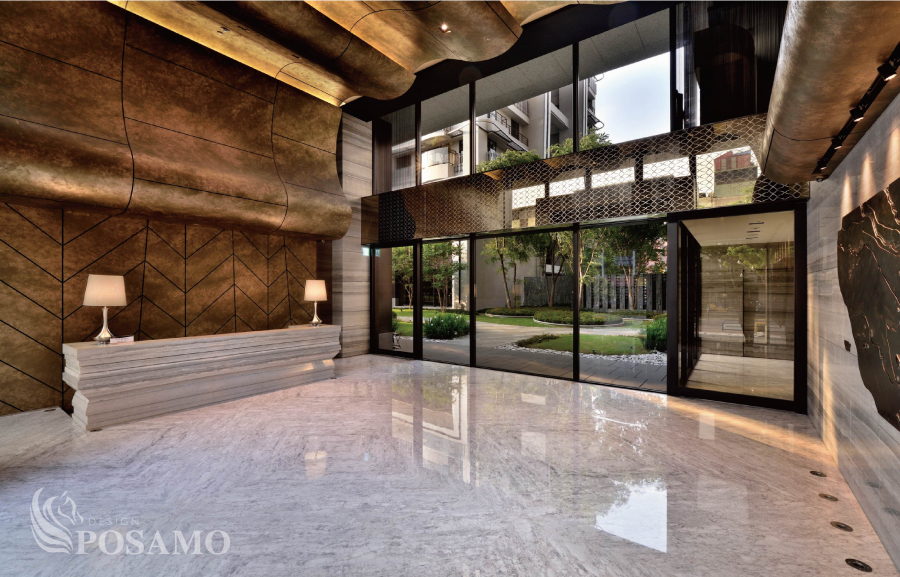 Turn and open the door, then you may see that the texture of the ground stone of the coffee shop resembles the spark splashing as it is forged. Ceiling and bar are designed through the inspiration of the brick wall of the old street and classic palace lantern, matching the modern linear style shaped by black iron to aggregate the elegant style. You can find your peace here in a beautiful afternoon, leisurely reclining upon the sofa of earth tone colors and viewing the mild green outside the French windows.
轉身推開一扇門,咖啡廳地面石材紋路如打鐵時飛濺的火花。天花板及吧檯區以老街磚牆、古典宮燈為靈感,搭配現代黑鐵線條,凝聚出優雅風格。閒倚在大地色系的座椅中,飽覽落地窗外的綠意,享受美好的午後時光。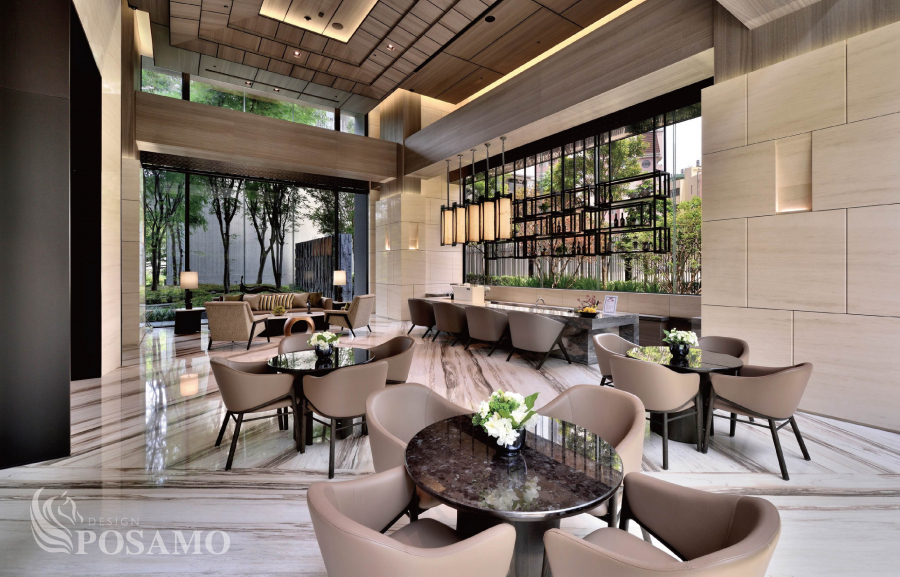 Hundred years of delicacy is also reflected into the design of the reading room. Learning from the campus design of academies from the Qing Dynasty but filtering those over-sophisticated decorations and retaining only the wooden ateposts collocated with lamps and pseudo-classical display cabinet to forge the art of silence and to inspire humanity and culture. The grand space with extra height makes the view for reading even broader.
百年風采,亦映照於閱覽室設計當中。取法清代書院院落層次,濾去繁複裝飾,留下穩重的木造門柱,佐以燈飾、仿古展示櫃,淬煉寧靜,煥發人文質地。大器挑高的空間,讓閱讀視野更加遼闊。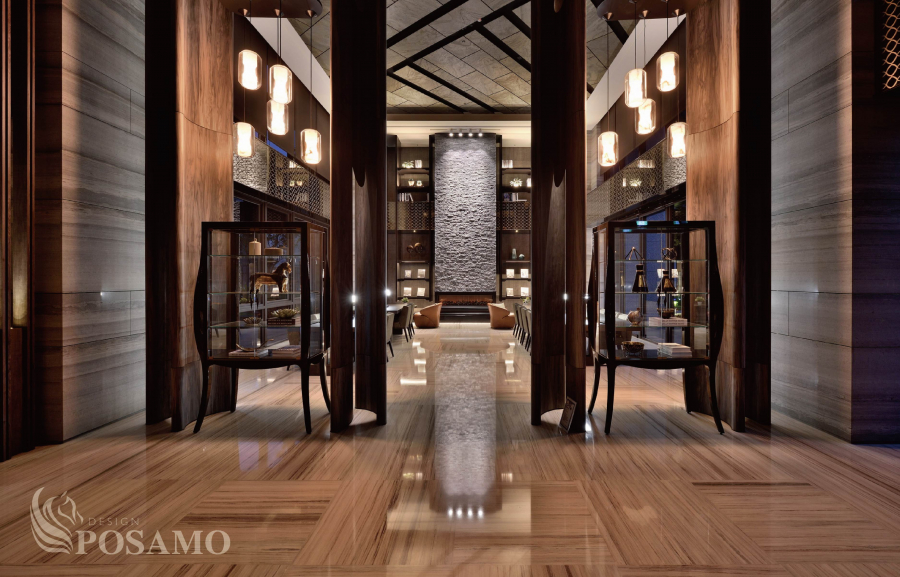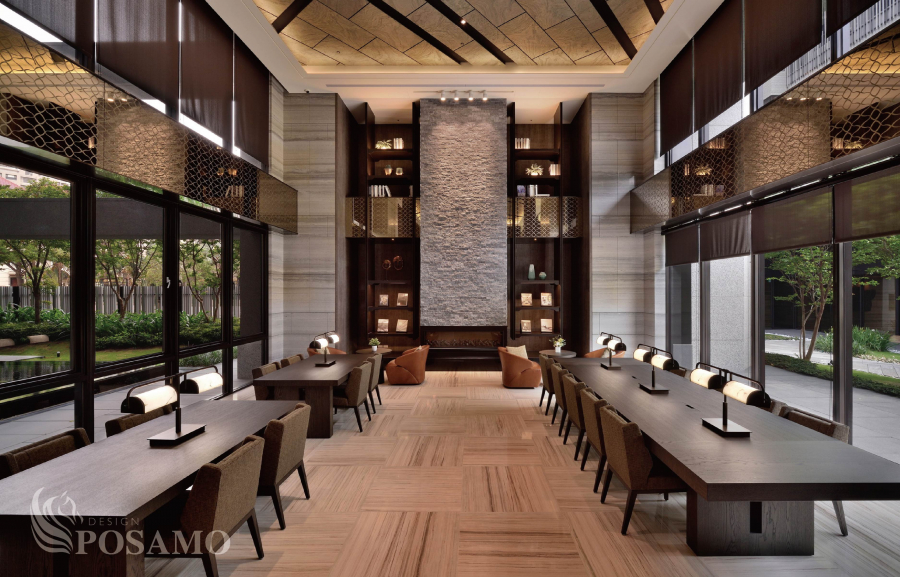 One must read his/her own life before he reads the books. The clean and bright cooking classroom with multiple functions, as well as the open central area make people embrace a grand view through the windows. A lovely place for people to cheer and chat with friends, to share the food together and to increase the chemical heat of a relationship!
飽讀詩書,先得飽讀人生。簡潔明亮的多功能廚藝教室,規劃開放的中島,迎向大片窗景,和親友品茗聚談、分享手作料理,也讓關係更加美味!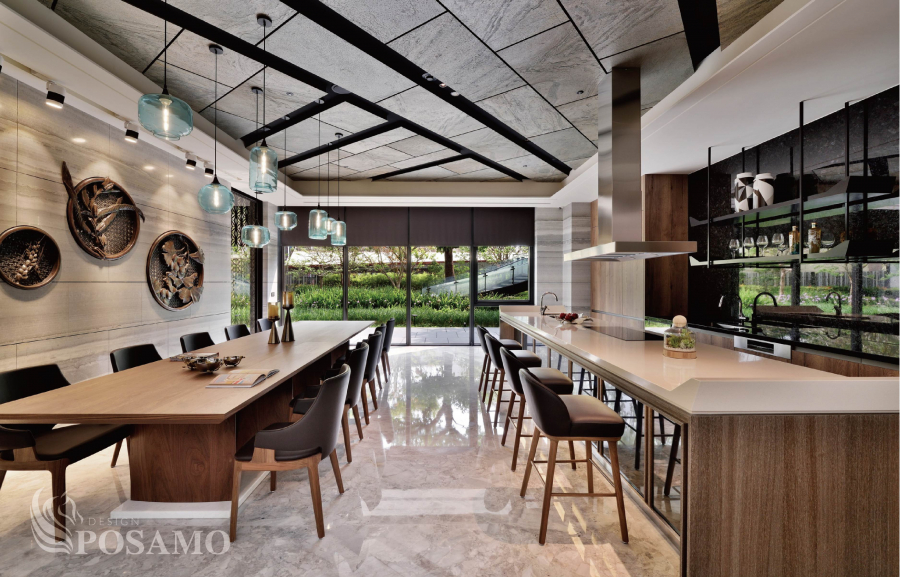 | | |
| --- | --- |
| Editor / Creative and Research Department | 編 輯 /十邑創研部 |
| Date / Dec 25, 2019 | 日 期 /2019-12-25 |