The water slowly ripples in Bitan Lake, where you can see a chain of undulating ridges and hills if you look up. Here is the place hoarding so many memories of youth, shining alongside the river bank. Starting from the landscapes, POSAMO has designed a lobby with dual doors to welcome all guests. Golden trees stretch towards the sky, where clouds halt for amusement, resembling the dreams in our youth where we could manage to touch them if we just stretch out our hands.
碧潭池水悠悠盪漾,抬眼可見山巒層層起伏,這裡,收藏許多青春記憶,琉璃般,閃耀於河岸。以山水為起點,十邑設計打造雙門廳迎賓,金色大樹昂然向天空伸展,雲朵嬉遊般駐足,彷彿伸手就可以觸及,曾經年輕的夢。設計榮獲2020 Muse Design Award 金獎,亦獲得 London Design Award倫敦設計大獎肯定。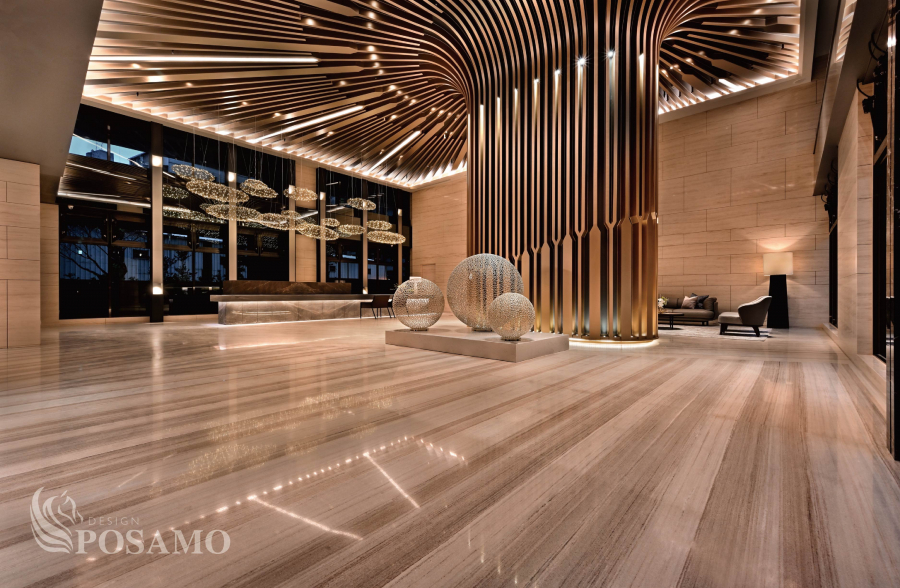 Entering another hall, you will find the reception desk has become part of a canvas, part of a splash-ink landscape painting. New Classic palace lanterns are hung above to reflect time. Mountain ridgelines are deconstructed into the patterns refracting the grounds and walls. The wood grain engraved on the ceiling rises and falls just like ocean waves, resembling the winding mountains, which gives off a sense of tranquility.


另一進門廳,接待檯變身畫布,暈染潑墨山水。其上懸吊新古典宮燈,映照今昔。山的稜線解構為地面、牆面折射的紋路,天花板有木紋波浪起伏,如山勢蜿蜒,予人寧靜之感。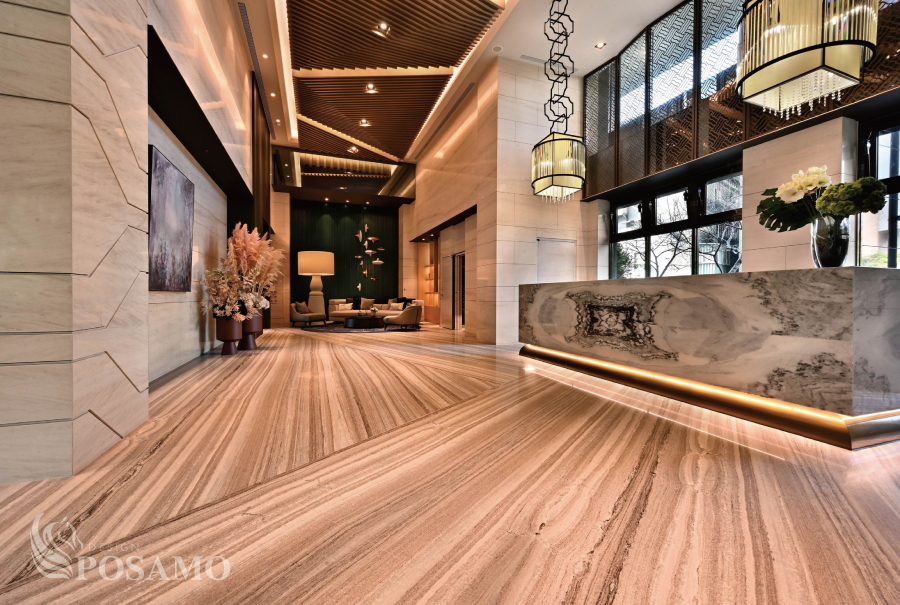 The Reading and Coffee Area has large French windows that embrace the natural green scenery in the courtyard. Line styles drawn by the ceiling, match the earth tones of simplicity to extend your view. On the reading desks, the lamps are decorated as scrolls, and like a sky lantern, illuminates with the warmth of light, and ignites the reign of your thoughts.


閱讀咖啡區,大面積開窗,擁抱庭院自然綠意。天花板勾勒線條,佐以質樸的大地色系,視覺隨之延展。閱讀桌上,燈飾造型如書卷,亦如天燈,亮著溫暖光影,照亮思索的廣度。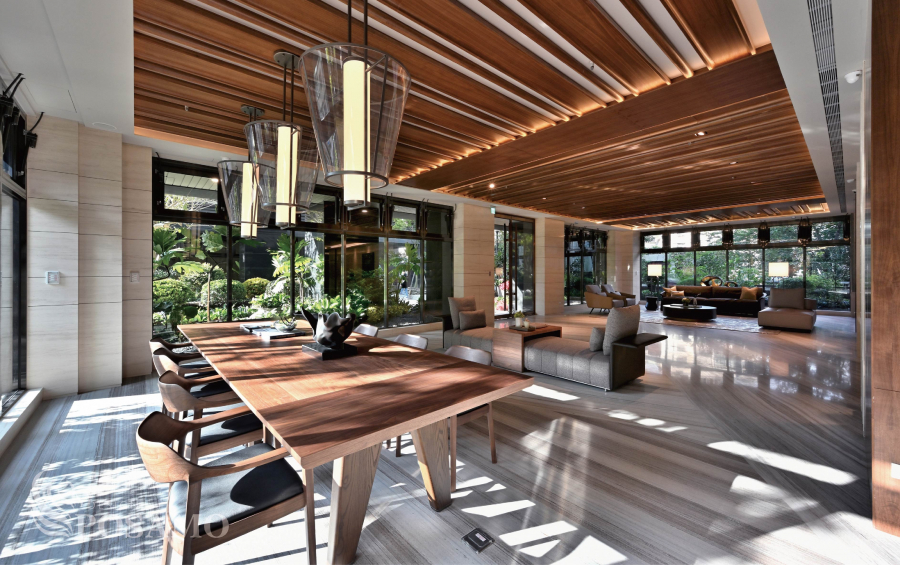 You may sit on the sofa leisurely to spend your time without any stress, enjoying the natural ambience, talking, or, just meditating. This is how life should be.
閒椅在沙發區,飽覽自然氛圍,談天或者放空,悄然不覺時光流淌。生活,就該如此舒心愜意!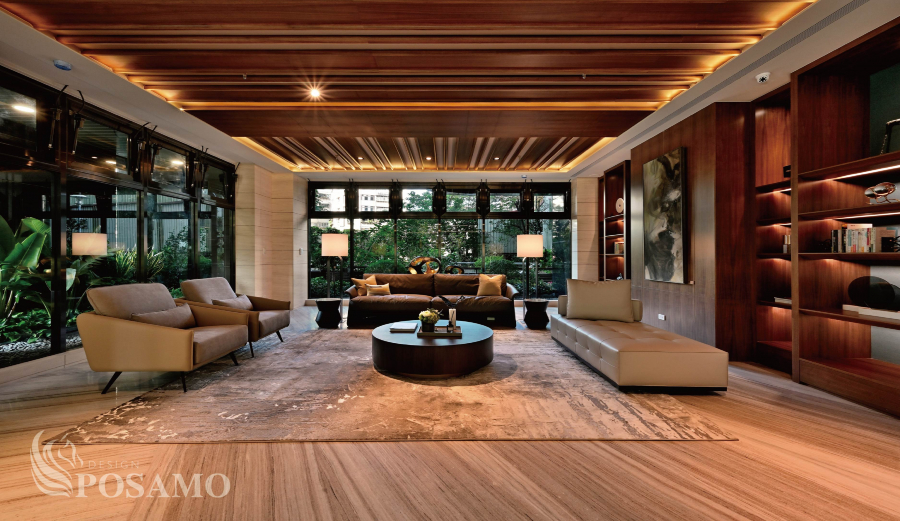 On a starry night, the Lounge Bar can not only provide you with a peaceful time, but can also be transformed into a party space. An ingenious design is concealed within the ceiling. The symmetrical polygons depict the ripples of water droplets, that echo the lakeshore adjacent to the mansion. We indulge with the landscapes, broadening our hearts as wide as the sky.
星夜裡,lounge bar提供寧靜時光,也可以變身歡樂派對場域。天花板蘊藏巧思,以對稱多角型描繪水滴泛起漣漪的畫面,呼應與建築相鄰的湖岸風光。寄情山水間,心寬天亦寬!