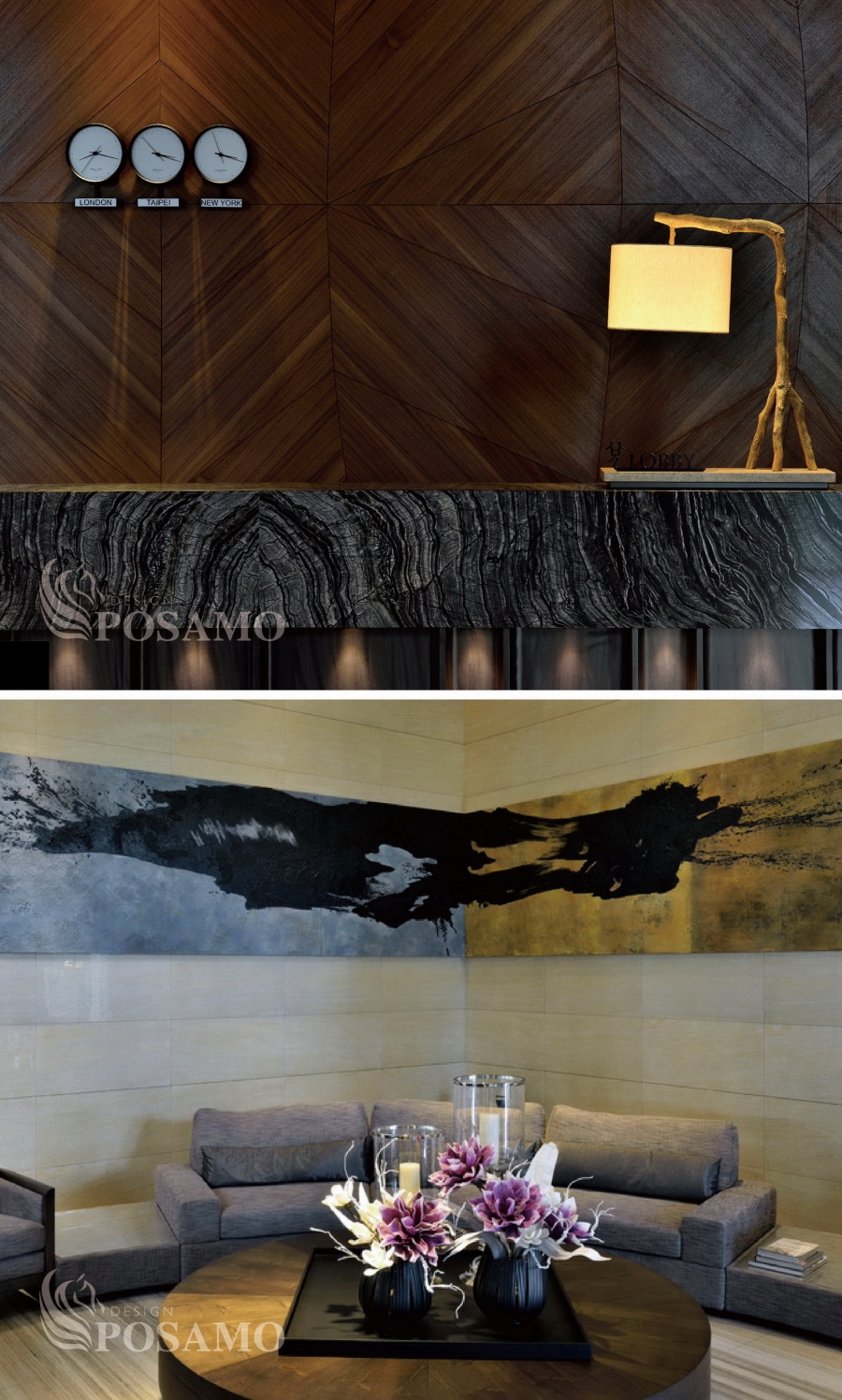 An aqua oasis in the city hub.
"Kindom Ding Jie" is located at the airport MRT line which is the hub connecting the world to Taiwan, so people living here enjoy the great convenience. The clocks on the wall in the reception hall show the time of London, New York, and the capital of Taiwan-Taipei. Walking in the hall designed by Posamo team is like being in the international corridor. The fruit-like glass drop ornaments on the hall's ceiling not only represent the bumper harvest but also show the rich creative arts of hall. The tree branch lamp conveys a feeling like leaning against the tree and reading under the moonlight.
水漾綠洲城市樞紐
台北冠德鼎捷座落於機場捷運線,是連接世界與首都的樞紐,享有絕佳的便利性;接待大廳牆上的鐘,捎來倫敦與紐約的時間,與首都台北同步放映,POSAMO 十邑設計將此打造為跨國際的長廊。一畝大地,垂墜著一顆顆果實般的玻璃吊飾,耕耘出旅人往返世界各地滿載
而歸的成果,是大廳豐盛的文創藝術;而樹枝撐起的吧檯燈,傳達著月光下倚著樹閱讀的感受。一只方正的旅行箱化身為特色端景櫃,人型雕塑則是旅人移動的表現,置身於北極藍琉璃交錯安置的美麗極地世界。
The Arctic blue lazurite craft and travelers' sculptures on the rectangular console table form into a beautiful picture. Using sky blue and earth tone as the base colors on the splash-ink painting and with soft semicircular sofa and round wooden table in the sofa area, it creates an elegant and graceful space.