In the afternoon with pouring rain, the POSAMO design team visited artist Hsi Shih-pin's steel workshop located in a traditional industrial park in New Taipei City. The hammering sound inside the workshop mingles with the sound of raindrops, and the hazy smoke permeating the air evokes of images of the secret base in the movie Real Steel. One cannot help but become excited about the adventure. Step inside the workshop, the red stallion presented us with a visual shock, and Mr. Hsi enthusiastically found the window display he designed for HERMÈS. The handcrafted horse head hat that was worn on the head of the manikin at the time and the mysterious, quirky mythology of the horse-headed man has raised the curtain for our magical adventure.
在大雨傾盆的午后,

POSAMO

十邑設計慕名來到席時斌藝術家位於新北市的一處傳產鋼鐵工業廠區,廠房內敲敲打打的聲響跟著雨滴聲齊奏著,朦朧的煙霧感覺好像是好萊塢電影鐵甲武士的秘密基地,讓人有著探險的興奮之情。踏入工作室,紅色的駿馬震撼了我們的視覺,老師熱情的到儲藏間找到了那年幫愛馬仕櫥窗設計,當時戴在模特兒頭上的手工裁製馬頭帽,在神秘又童趣的馬頭人身衝突神話開場中,讓我們開始了奇幻之旅。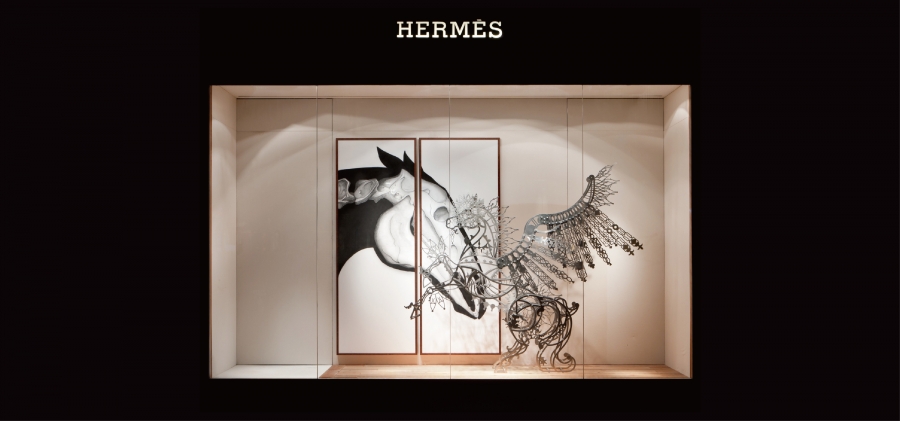 This stallion sculpture that has an elegant demeanor, thinking, and organizational skills was created by Mr. Hsi Shih-pin, who is one of the very few artists in the country well versed in installation art, sculpture, and international boutiques. Having collaborated with HERMÈS, Louis Vuitton, Ferrari, and Mercedes Benz, he has also worked with the iconic construction project in Neihu, Taipei – The Cullinan. Moreover, he has participated in numerous domestic and international public installation art exhibitions, and he was also the resident artist for overseas artist villages. His creations are collected by the NCAF and the Peninsula Paris. Exuberating with the majestic demeanor of a king, his artworks dominate the fantasy world that transcends space and time, where boundless imagination takes the audience on a galactic journey through the universe. The creativity of Mr. Hsi has transformed sleek, skeletonized stainless steel into flowing, tender emotions under the lights.

一匹有氣質、思想、組織力的駿馬,背後的靈性創造者─席時斌老師,為國內少數以特殊裝置藝術及雕塑,跨足國際精品品牌的藝術家,曾與愛馬仕、路易威登、法拉利、賓士配合,亦與台北市內湖的指標鉅案「長虹建設天璽」合作,更曾多次在國內外參與公共空間環境藝術展出及國外藝術村駐村創作,並獲國家文化藝術基金會、巴黎半島酒店等單位收藏。作品帶著至高王者的凌空氣勢,主宰著超越時空的異想世界,天馬行空奔騰之後,讓人彷彿騎乘在星河,悠遊穿梭宇宙,透過他的創造力,不鏽鋼的冷冽素材,縷空層疊在光影下變成流動的柔美情感。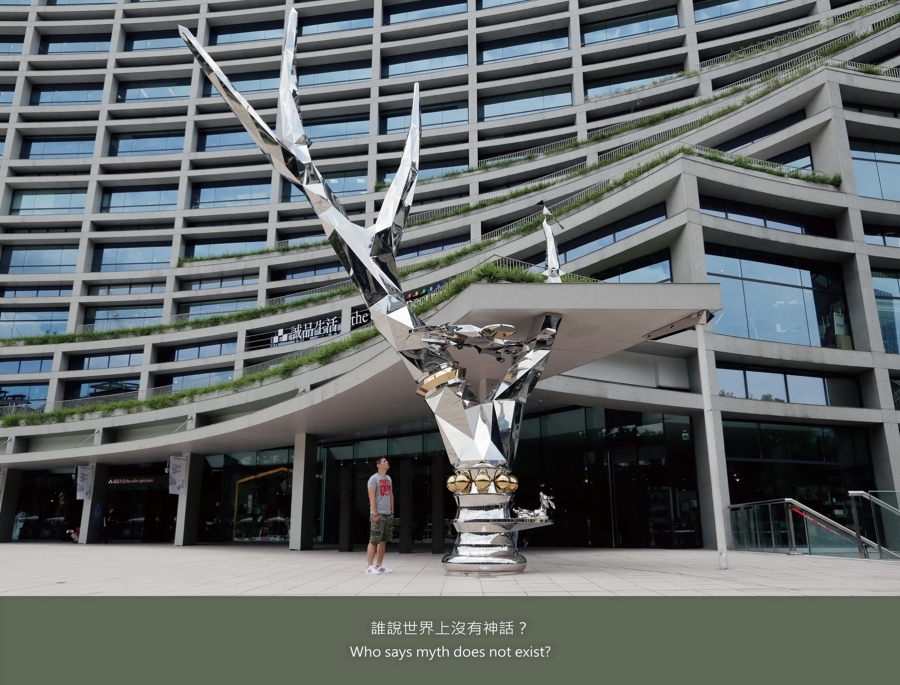 "Neptune - The Path of Imagination" is Mr. Hsi's most recent solo exhibition at the Taitung Art Museum, where the love story between Poseidon and Medusa is used as the introductory artwork. The composition of "Buck of Freedom" took nearly an entire year. The value of freedom serves as the forward momentum to vividly depict the ancient mythology. European moose, Asian sika deer, Formosan sambar deer, and the high-tech virtual deer converge to form the outline of a horn under different cultural connotations, symbolizing the crown of glory. The diverse materials used in the exhibition consist of laser and classic pottery craft, where various animal shapes portray the legendary story as if it is a glamorous adventure.
「海王星─想像之徑」是老師近期在臺東美術館的個展,以海神波塞冬與梅杜莎的愛情神話作為引子,《自由之鹿》構圖就花了近一年的時間,以嚮往自由價值為奔跑前進的力量,彷彿古老神話活靈活現映在眼前,歐洲的麋鹿、亞洲的梅花鹿、台灣的水鹿,以及虛幻的科技鹿,在不同文化底蘊下融合成了角的形體,象徵著榮耀的王冠,策展裡的多元素材,有著科技雷射、也有著古典陶藝,以不同動物造型、繁複層疊出傳說中的故事,像一場華麗的冒險。
Editor /Creative and Research Department

編 輯/十邑創研部

Image /Hsi Shih-Pin

照片提供/

席時斌工作室

Date /July 25, 2016

日 期/2016-07-25